We are living in an age where Android devices seem to be useless without cloud storage apps. It is more appropriate rather than having a hard drive every time. Android Cloud storage apps enable you to share your files with more ease and save much of your time.
Previous, we had also published Cloud Storage apps in 2018 which was the list of 20, but many apps are still cool in 2019 as well and users are appreciating the efforts of deserving Android cloud storage apps.
Free Android Cloud Storage apps in 2019
You can find a ton of cloud storage apps on the internet, which might cost you in-app purchases. But not all of them act upon what they claim. In this article, we will let you know about the 15 free cloud storage apps for Android.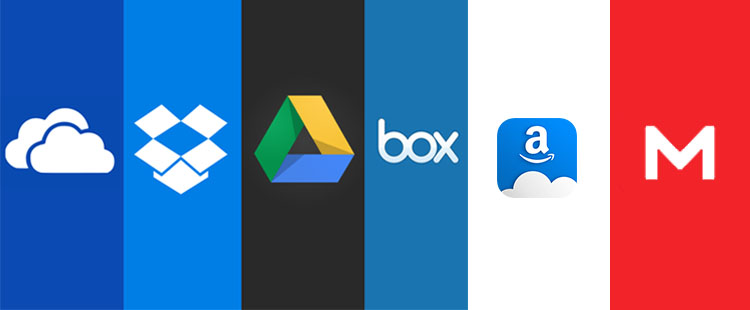 Amazon Drive
Amazon Drive can be the best start for you if you use Amazon Prime. Amazon Prime offers free 5 GB storage as well as unlimited photos and videos back up. This app also lets you update to unlimited storage, which costs around $60 annually. You may also download it in your Android smartphone if you haven't installed Amazon Prime, however, the 5 GB of storage along with unlimited video and photos backup will be available only for $12 annually. It really works well, and you can get access to your files anytime and anywhere.
Box
Box.com is a newcomer in the world of cloud storage. There are several different apps for file management, which do have Box integration also and that's really convenient. If you are new to it, you can start by signing up for your personal account for free. As a result of it, you will have 10 GB free storage in your device while if you subscribe to $10/month subscription, you will get 100 GB. There are also some business price packages which starts from $5-$15/ per month for one user. These packages also include more advanced features. This app is specially designed for an organization, therefore, it has a far simple and sober look. Download Box.com cloud storage app on your Android device.
Dropbox
Who doesn't know Dropbox? It is a famous cloud storage app and even some Android devices have already been installed with this app. The app introduces Microsoft Office support, auto-video and photo upload, sharing options, updated Android design elements, and the capability to send any files to other users. It's a reliable option with new exciting features. A single account gets free 2 GB along with the functionalities for 1 TB for only $9.99 per month having a $19.99 option as well which offers the same storage space but with advanced features. If you want to use a cloud storage app for business purposes, you can avail other options.
Google Drive
Google Drive is considered as one of the most popular and respected cloud storage apps. It offers users 15 GB of free space along with unlimited video and photo backup through Google Photos. You may also find office apps which are available for note-taking, documents, spreadsheets, as well as presentations. It will upgrade to 100 GB if you buy $1.99/month subscription plan or 1 TB ($9.99) at reasonable rates. The cloud storage and office app combo are a better one and one which gives their competitors a hard time. Download cloud storage app on your Android device.
Mega
Mega is the cloud storage app which was put down by the authorities a few years back. Mega offers its users free 50 GB which is considered as the largest signup bonus that we've seen so far among all of those cloud storage services. It has introduced many storage options which start from 200 GB to 8 TB appropriately. One interesting thing about the app is that it takes care of your privacy and encrypts all of the files which you have uploaded to it. Download cloud storage app on your Android device.
Nextcloud
It is a unique and different kind of cloud storage apps. Nextcloud works like Resilio Sync app. This app lets you make your own server on your own PC and sync files between your phone and computer. It runs exactly like any other cloud storage, however, you can control where the media go and what is going to happen when they are uploaded there. People having the idea of cloud storage love this app but don't like their files in the ownership of servers of any other company. Additionally, you will get as much storage space as you have on your PC. This app is completely free to use and there are also some other features for business use.
Microsoft OneDrive
Here is another popular cloud storage app available i.e., Microsoft OneDrive. It works directly with different Windows products. If you make an account, it will reward you free 5 GB cloud storage while you can get 50 GB in case you purchase a $1.99/month subscription. It is also added in every subscription of Office 365, but it is only for business or personal use. You will find a combo plan of Microsoft Office 365 and OneDrive space for $6.99 for one month (1 TB, one device) or $9.99 monthly (5 TB, five devices). This subscription will give you cloud storage space and Microsoft Office at an affordable price. Download OneDrive cloud storage app on your Android device.
Resilio Sync
If you want to have your own cloud storage, then Resilio Sync can be the best option for you. Using this app, you can use your laptop, desktop, tablet, NAS, or your home-built server in order to sync your phone. It runs exactly as Google Drive, Dropbox, etc. It is like your own machine that you can use to store everything. It is the perfect storage app for those who want security along with cloud storage. This app is completely free to use.
Tresorit
It is one of the expensive but popular cloud storage apps. Although, it is a very security conscious app which specializes end-to-end encryption of any file you have uploaded to it. If you sign up to a basic account, you will get free 1 GB storage while buying $12.50 monthly subscription can make you earn 200 GB. You can also upgrade 2 TB for $30/month. Moreover, the premium plan offers additional security features. Business enterprises can also avail their unique features if they don't mind to pay for it. Download cloud storage app on your Android device.
Media Fire
Media Fire is one of the best free Android cloud storage apps, available for storing photos and documents online. The initial sign up gives 10 GB which can be expanded up to 50 GB. Media fire cloud storage app offers so many features to make the handling of files easier than before.
You can upload multiple media at a time from any of your browsers. That is an interesting feature which makes it unique from others. Now it is easier to organize files in Media fire file manager. This app is free to use.
pCloud
pCloud is another popular cloud storage option which upgrades 2 TB storage along with its unlimited auto-upload traffic. pCloud updates your device with free 10 GB cloud storage space for its basic account. This app also helps in resizing your pictures without using any software. There are many different options available for picture resizing. Another amazing feature of pCloud is that you can archive your files easily if needed. pCloud service also makes strong security and locks pCloud drive every time when you log out from the pCloud account.
Sync for iCloud
Sync for iCloud is the best cloud storage app for Android and Apple users. It offers free 5 GB storage on an initial account. You can store all of your files and documents without any fear of hacking. It allows you to share videos and photos with your friends and family members. Now you won't be facing any difficulty in creating files and folders with Sync for iCloud. This app also allows you to send texts and store in the app manager.
Sync.com
Here is another cloud storage app for free space on your device i.e., Sync.com. Initially, you will be rewarded with free 5 GB storage. You can easily back up your pictures, videos, and files with Sync.com as it offers productive features. This app also allows you to restore the deleted media and saves you from getting embarrassed. Moreover, if you want a little more storage for your photos and files, ask your friend for Sync and as a result, both of your devices will be upgraded with a free GB storage space. You can also save your data and files in an individual Sync folder named as Vault.
iDrive
IDrive is the best one to back up your photos, videos, and files. It is available for iOS and Android devices both. You can get access to this app using your mobile application, desktop or the web. No matter you want to restore your deleted documents, calendar or back your important files, IDrive is there to help you out. If you turn on auto-updates, your device will get storage space without losing any files and data. You can also share files and videos using this easy-to-use and simple cloud storage app.
Upthere Home
Are you looking for any newer cloud storage app to install in your Android smartphone? Upthere Home by Western Digital is an ultimate cloud storage app, suitable for your device's needs. It runs exactly like Google Photos and specializes automatic videos and photos uploads along with a UI centered. Although, it also works for other file types also. The subscription plans are quite reasonable which starts from $1.99 for 100 GB space. It's an easy-to-use app which works pretty well.
Conclusion
If you think, we have compiled a great list for 15 free Android Cloud Storage apps in 2019, be sure to comment below. So, start sharing your files, sync your data, restore your files and back up them whenever you want with free storage Android apps. If we forgot to mention any other app you think is best, do let us know about it.