As we know that Android is amazing OS for smartphones/tablets and in this way we should learn about Android as possible as we can. Previously, we had published an article about how to download .apk file of Android apps from Google play. Well, .apk is an application file such as skype.apk, viber.apk, and so on. .apk files are app files that gets installed on Android devices and works just like .exe files in Windows OS. APK files for Android devices are same as .exe for the Windows PC.
Android users must learn how to install .apk files in Android smartphones/tablets. Out there on internet are many websites that offers free apk Android apps to its users from where everyone can download but to install these .apk files many people are having problems that's why I wrote this article. In this article, you will find best ever 2  methods to install .apk files in Android devices and enjoy playing games, musics, and so on.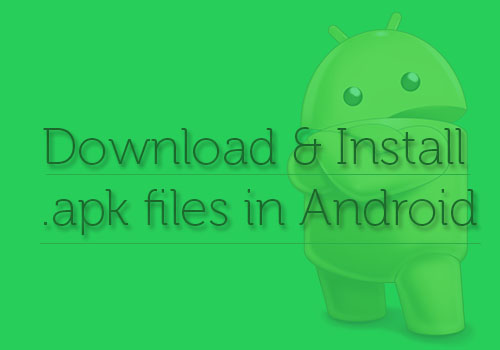 How to Download & Install .apk files in Android Devices
Before we go under process of installing apk file in Android, below are two ways to download Android .apk files from internet:
Download APK Files using your Android Device
1. Download APK File using you PC/Computer
In this method, you will use your PC to download apk file from internet and using your Android USB cord, you will copy the .apk file from PC (that you downloaded from internet) to your SD card. To download the Android apps on your PC click here.
Follow the steps below to install .apk files to Android device:
Use your PC to download .apk files from internet in your computer
If you have downloaded some Android apps in your PC
Make sure that you have allowed to install third-party Android apps, click here if you didn't
Download ES File Explorer File Manager and install on your Android device
Now, connect your Android device with your PC via USB cord
Here, your PC inquire you about the current condition to connect your device as a media device or you just want to charge your device (Choose Media Device)
Open My Computer and go to device media, here all you need to do is to copy the downloaded .apk file to a folder of SD Card of your device
How to install .apk file on Android device
Final step, just Unplug your Android device from PC
In your Android device, search for the .apk 

file

 that you have downloaded earlier
Once you found the file on your SD card, just tap on it then tap on install button to start installing
2. Download APK Files using your Android Device
Okay, if you know how to use internet and know how to search like boss then I'm sure that you can easily download apk files on your Android device from internet. Follow these steps if you are beginner user of Android:
First of all, open up your browser in your Android device (whether it is Google chrome browser or Opera mini or one of these top 10 internet browsers for Android)
Go to google.com
Search "Plants vs Zoombies .apk download" (without quotes)
Now, go to any of Google search results and find download link to download plants vs zoombies .apk file
Once downloaded, drag down the notification bar from top of your Android device screen and tap to plantsvszoombies.apk file
Now, simple click the button Install app that you will see after you clicked the .apk file
Finally, the application will be started to install in your Android that you can enjoy whenever and wherever you want (Even without internet connection)
Congratulations, you have successfully learnt how to install .apk files in Android devices in one-click away.