Previously, we used to use WhatsApp in our Android smartphone no matter we are at home or at work. But now, you can have completely different WhatsApp Android app for business. So, you can just switch to Whatsapp business app while you are work. If you have WhatsApp business app installed on your phone, the chances are high that you are gonna engage and focus more on managing your business number using WhatsApp. WhatsApp business is the whole new idea by the WhatsApp team so that you won't miss out any business number while you were busy chatting with friends in groups.
Now, you can install WhatsApp for your personal use and download WhatsApp business for your business contacts. If you are a business owner then you must realize the fact why WhatsApp business is introduced. However, the app is not officially released on Google play but you can download the APK installer file from this article. To know, how to install APK files (Enable Third-Party App Installation) in Android just read this article.
You must know that WhatsApp Business is under testing version (beta) and it will be soon official on Google play but if you want to be part of testing the beta file of Whatsapp then you will have to be registered.
Must read: Read WhatsApp Messages without letting Sender know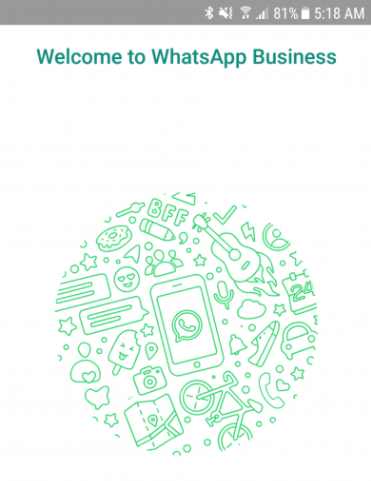 Download WhatsApp Business APK for Android
Download the WhatsApp business APK file from the given link below. When you are done with downloading the APK file then you can proceed to next step where you will learn to install WhatsApp business APK in your phone without Google Play.
Download WhatsApp_Business 0.0.55.apk (Size: 45.2 MB)
WhatsApp Business Latest Version APK
Updated: January 22, 2018
How to Install WhatsApp Business APK
Don't panic, it is not that hard to install an APK file in Android. You can simply follow the steps to install WhatsApp business APK file in your Android smartphone:
To install WhatsApp Business APK, you first have to enable "Unknown Source" setting.
Go to Settings > Security > Tick Unknown Source (To see complete guide on enabling unknown sources in Android)
Once, you enabled unknown sources to follow the rest of steps
Open your browser in which you downloaded the file (whether it is Google chrome browser or Opera mini or any one of these top 10 internet browsers for Android)
Go to downloads from browser settings
Simple click the button Install app that you will see after you clicked the .apk file (If you are not able to click install app)
Congrats, WhatsApp business have been installed in your Android