As we are living in the modern age of science and technology have been raised more than expected and many people are looking to hangout on internet with their friends with the help of technology. However, in this article I just collected a best list of Android apps for free text messages and calls. These applications are the most used and have a great importance in Android world. These are the top android apps for making free text messages and calls. So, here are the Top 10 Android Apps that helps you to send Free Text messages and Calls to your friends with the helps of internet (a big part of technology).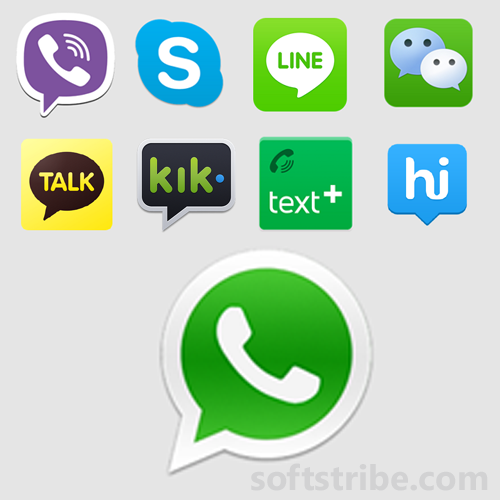 Android Apps for Free Text messages and Calls
1. WhatsApp Messenger for Android
WhatsApp Messenger is a smartphone messenger available for Android and other smartphones. WhatsApp uses your 3G or WiFi (when available) to message with friends and family. Switch from SMS to WhatsApp to send and receive messages, pictures, audio notes, and video messages. However, you can also use Whatsapp in PC (if you want to).
To get Whatsapp in your Android smartphone/tablet, click here.
2. Viber for Andorid
With Viber, everyone in the world can connect, freely. More than 200 million Viber users text, call, and send photo and video messages worldwide over Wifi or 3G – for free. Viber Out can be used to make calls to non-Viber mobile and landline numbers at low rates. Viber is available for many smartphones and platforms. However, to make use of Viber in PC, try this guide.
3. Skype – free IM & video calls
Skype is one of the best free text messages and video calls application owned by Microsoft. Say "hello" to friends and family with an instant message, voice or video call on Skype for free. Join the millions of people using Skype today to stay in touch with the people who matter most. There's so much you can do, right from the palm of your hand.
4. LINE: Free Calls & Messages
With LINE messenger you can make free  calls and text messages to your friends and family at no COST. There is no limit and you can send as much messages and calls as you want. LINE is a new communication app that allows you to make FREE voice calls and send FREE messages whenever and wherever you are, 24 hours a day. LINE has more than 400 million users worldwide and is used in over 231 countries. If you are looking for LINE messenger to use in PC.
5. WeChat for Android
Free texting, voice messages, and video calls in your pocket. 300 million people love WeChat because it's fast, reliable, private, and always on.To use WeChat Android Chatting app in your PC. However, get WeChat for Android.
6. KakaoTalk: Free Calls & Text for Android
KakaoTalk is a fast & multifaceted messaging app. Send messages, photos, videos, voice notes and your location for free. Make chatting extra fun with an array of emoticons and sticker collections. However KakaoTalk is the fast, fun, easy way to communicate with friends and family.
7. Tango Messenger, Video & Calls for Android
Tango is a fun, free messaging app that allows you to easily connect with friends & family or make new friends. Send text messages, make video & voice calls, share photos, meet new friends, play games, send music messages powered by Spotify & more.
Get Tango Messenger in Android
8. Kik Messenger for Android
100 million people love Kik, the smartphone messenger with a built-in browser. And since your Kik username – not your phone number – is your Kik identity, you're in complete control of who you talk to on Kik.TALK: Kik is more than a messenger. It's like a real conversation, where you know when your messages are delivered and read, and when the other person is typing back. This makes your conversations come to life.
9. hike messenger for Android
Hike Messenger for Android to keep close friends close with hike messenger. hike is super fast messenger with sent, delivered, read and typing notifications, it feels like you're having a chat with someone in person. The app uses your 2G, 3G or Wi-Fi (when available) to message with friends and family.
Get Hike Messenger for Android
10. textPlus Free Text + Calls for Android
Always get Free Text / SMS to anyone in the US or Canada, cheap phone calls to any number in the world. Or message and call other textPlus users for free. It's your choice. Keeping in touch made simple, cheap and hassle free.
Get TextPlus Free Text in Android