Texting and messaging is one of the favorite activities of youngsters on their Android smartphones. As it has a broad library of tools and apps, you will get various apps available on the Google play store for messaging today. You can use these messaging Android apps to send and receive messages from your loved ones. Yes, that's true that messenger apps did played there role in making our lives easier by bringing us all close to one another. On the other hand, some apps can give your default messaging app a fresh and new look thoroughly. We did covered many useful messaging Android apps in this article be sure to check it out.
Best Messenger Android apps in 2019
The fast-growing technology has been moving away from MMS and SMS as the default way of messaging people. The SMS trend began years ago along with apps such as AOL Instant Messenger which works very well. However, the modern era slightly kicked it up over the past few years and provide you with ultra-modern chatting apps for free. What are the best messenger Android apps in 2019? In this article, we have compiled 15 best messenger apps for Android.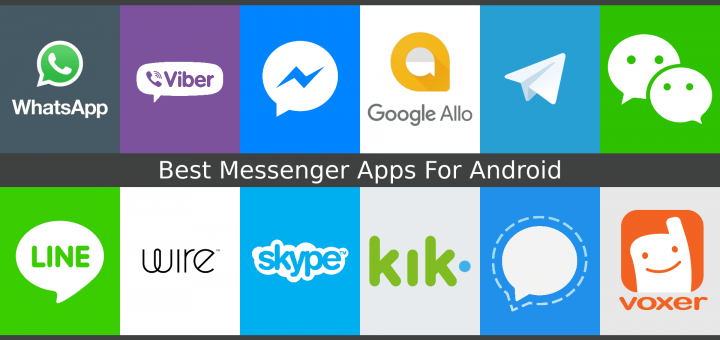 Discord
Discord is one of the best messenger apps for game lovers. It offers different features like cross-platform support among various computer and mobile phone operating systems. You can also have a web client for the platforms even if you don't have a native app. There are some other features Discord offers such as voice chat, GIF support, multiple text chats, and many more. If you are on the service, you will be able to create your own servers. This app is specially designed for gaming purpose. Although, some of the people use it only for the amazing organizational system as well as average voice chat functions. There are not any in-app purchases or ad disturbances. Download messenger app now.
Download | Discord – Chat for Gamers APK for PC
Facebook Messenger
Here is one of the most popular and most used messenger apps – Facebook messenger. It has two chat applications for this. The first one has all the features such as chat heads, GIFs, stickers, as well as other popular features, while another one is a Lite version which is just a basic chat app version with only fewer frills. The regular users of Facebook want the regular application while those who don't use Facebook Messenger regularly ought to use the Lite version. Facebook is displaying ads to its chat apps but they are completely free to use. Install free chat app in your device. WikiPedia also find this Facebook messenger as the great chatting app because it is associated with Facebook., check here.
Kik
Kik is yet another free chat and messenger app. This app allows you to select a screen name instead of a phone number which makes it an older app. Kik is significantly famous among mobile gamers and the people who love random chatting. This app offers stickers, group chats, emoji, video chats, beautiful themes, as well as material design. If you buy in-app purchases, you can use its additional sticker packages and things like that.
Slack
It is an encrypted messaging app which possesses a professional and clean appearance. Groups and individuals may create channels, send and receive voice calls, and a lot more. Slack app also specializes support for third-party applications such as Giphy, Asana, Google Drive, as well as other productive or fun tools. The slack users are also allowed to join various servers. It's like another professional messaging app just like Discord, as it is also free to use with no ads or in-app purchases. The people who want extra features should buy Slack subscription pack.
Skype – Free Voice Calls And IM
Are you looking for one of the most secret chatting apps? If yes, Skype can be your secret partner. You might already know that this app lets you video call, text chat, and voice call. It is different from other messaging apps in that it enables you to call any of your friends on phone numbers costing a reasonable fee. The app also offers other features which might not be useful for the users who want all chat features. However, Skype owns awesome cross-platform support, multiple chats, and file types support, GIFs, and documents as well. Like Facebook messenger app, it has also introduced a lite version if you don't want to use features. Install free chat app in your device.
Snapchat
Have you tried out the Snapchat app? It is really a unique app, supporting stuff like video messages, voice calls, text messages, and photo messages. This unique app deletes your messages after you view them which means that there will not be any history left for hackers. There is also a Snapchat Story option which enables users to send their status updates that can be viewed by their followers. However, they get expired in 24 hours. Snapchat is extremely popular among the young generation and definitely different from others. Download messenger app now.
Download | Snapchat APK for PC
Telegram
It is a secure messaging app for people who want privacy. It uses symmetrical 256-bit AES encryption and RSA 2048-bit encryption. This feature makes telegram app one of the secure messaging apps out there. It also allows file sharing, group chats, cross-platform support, GIF support, and stuff like that. It made its name rapidly which makes it very hard to judge at first sight. Although, a lot of people use the app these days.
Download | Telegram APK for PC
Viber
Viber isn't the most used app, although it's also among the list of popular messenger applications. It gives you a full experience of calls, messages, an encrypted chat, video messages, group chats, video chats, and a lot more. Viber also adds other extras such as worldwide news and stickers. This app is heavy in size so the people who haven't much storage in their device should avoid Viber.
WhatsApp
WhatsApp messenger! It doesn't need not explanation of course. It is the most common and the most popular messenger app throughout the world. It doesn't need any introduction after all it has millions of users from all over the world and offers different interesting features. WhatsApp gets updates and stands first among other messenger Android apps. It features video chats, voice calls, text messages, voice notes, group chats, support for media formats including videos, GIFs, etc. It's accessible, powerful, and popular. Whatsapp is also free to use without any in-app purchases. Install free chat app in your device.
Download | WhatsApp Messenger APK for PC
Hangouts
You might already know Gtalk from Google. Once upon a time, it used to be a popular web messenger. But when we started switching from our smartphones to computers, Gtalk turned into Hangouts. You may use this messenger app "Hangouts" to enjoy voice and video calls, to share files and location. The interesting thing about this Hangouts is that it supports Google account. Install free chat app in your device.
GO Sms Pro
Do you still have a few of your friends who use feature phones and you are in contact with them by texting app? Go SMS pro can be the best one for you to send SMS for you. Offering many interesting personalized emojis and themes, this app also features dual sim message on one place. It is really a fun app for sending text messages.
Google Allo
Google Allo is a Google assistant available for you so that you can chat with your family and friends. You can add a bunch of doodles or text lines on your pictures and send to your friends. This app also offers an incognito mode for security. This feature helps you keep your chats private. Furthermore, you can also check expiring chats. It is a kind of unique app as you can also chat with Google assistant using Google Allo.
Line Messenger
Here is another texting and video chatting app among our list of best messenger Android apps i.e., Line Messenger. This app allows you to chat with strangers and make them friends. Additionally, If you plan to have a meet-up with your old friends then you may also make polls with Line app. You can also make calls to landlines and mobiles all over the world at reasonable rates that's why you can use it as an SMS sender or dialer app also. Install free chat app in your device.
Download | LINE: Free Calls & Messages APK for PC
Signal Private Messenger
The Signal private messenger app got a higher rating of 4.6-stars however, it doesn't work on larger screens. It is not available for tablets. You can use this app in real time if you want to avoid SMS charges. Moreover, you can make groups and send attachments to them. It's a fast, secure and reliable messaging app, having strong encryption for your chats.
Band
Band is a secure messaging app for groups. It enables you to start your own groups and invite your friends and family to them. The band developers highly recommend this application to the people on school groups, sports teams, work groups, gaming clans, etc. Anyone can join in, chat it up, and enjoy a good time. Band also lets you organize your groups into several channels. It is similar to apps like Slack and Discord. You may also send a message directly to individuals. Furthermore, adding calendar events can be the plus point of this app if you want to set group activities. Band is completely free to use. Install Band message app now.
Conclusion
If you find this article helpful comment below, also you can suggest us any free messenger app which you like and want to see it in our list above. All of the messaging apps are unique in their features.