We all know that WhatsApp is one of the most popular Android messenger apps that provides real great features to keep in touch with our friends and family. WhatsApp messenger have already been download more than a billion times. With the growing of daily registered users of WhatsApp app across all smartphones OS i.e., iPhone, iPad and Android, Mark Zuckerburg (Owner of Facebook) acquired WhatsApp late in 2014 for 19.6 Billion dollars. However, the most common thing that comes in our mind about WhatsApp is: How to read WhatsApp messages of our WhatsApp contacts without letting them know that we have actually seen their message 😛
Confused? Don't be because WhatsApp displays time of message if it had been read by receiver on the sender's screen. Of course there must be some reasons behind why would you not let your senders know that you have actually read their messages. Everyone keeps secrets and sometimes it is better for secrets remain secrets. And of course the message seen feature forces us to reply the message. Many people like this message seen feature but some of them didn't. If you are one those who don't like this message seen feature of WhatsApp then here are the 5 tricks to read WhatsApp messages without letting the sender know it.
5 Methods: To Read WhatsApp Messages without letting Sender know
Alright, below I'm going to guide you to read WhatsApp message without letting the sender know it that we have read his/her message.
1. Drag down Notification Bar (Have a glance over message)
This is the most common thing that we do when we see WhatsApp notification in notification bar and we immediately drag down the notification bar to see who is actually texting on WhatsApp. That's where we can easily have a glance over message body as well which reveals either complete or partial message in the notification bar without opening the app.
Note: The message seen blue ticks display only when you open the app with WiFi connection to read messages.
2. Run WhatsApp app with Airplane Mode enabled
Yet another common trick that we use to read the messages on WhatsApp by enabling the airplane mode before heading to read the messages with disabled WiFi connection since airplane mode is enabled 🙂
Don't open WhatsApp app when you receive message on it but once you received message just drag down the notification bar or go to settings to enable the airplane mode first that will turn off your WiFi connection or even mobile data will be disabled as well with the help of airplane mode that will take down WhatsApp offline. Afterwards you can feel free to run Android app to read the message and once you are done with message then close the WhatsApp app and disable the airplane mode.
3. Disable "Read Receipts" in WhatsApp settings
There is a settings in WhatsApp application that will help you to disable the message seen blue ticks feature on WhatsApp whenever you go ahead to read the messages. Disabling read receipts is one of the most authentic and straightforward ways that you can follow if you don't want to let your message sender know if you are actually reading his/her messages.
Note: But on the other hand you will also not be able to know whether someone has read your messages or not.
You can disable read receipt on WhatsApp by following these steps:
Go to WhatsApp and Settings
Tap on Accounts → Privacy
Scroll down to untick Read receipts
All set… 🙂
4. Use WhatsApp Pop-up
WhatsApp used to have a really great feature in past that we used to see popup notification and message notifications in the past. However, you might have forgotten that old feature or many people didn't knew about that feature anymore but still available on WhatsApp.
You can head over app settings and select Notifications → Pop-up Notification
Look for Message Notifications and tap on it and select anyone from the options:
Only when screen "off"
Always show pop-up
Only when screen "on"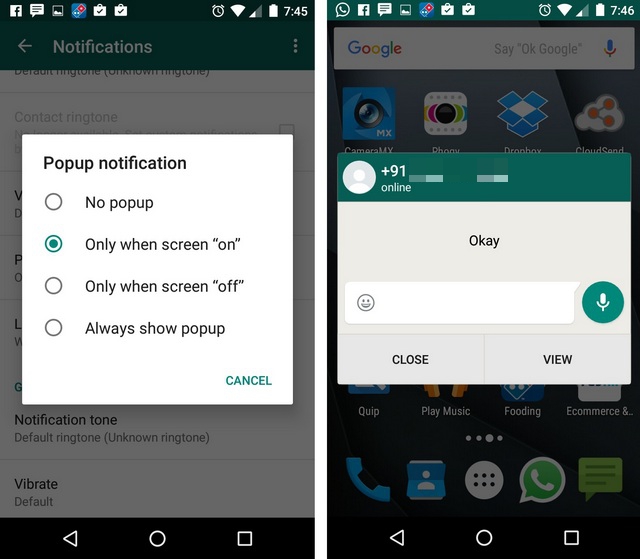 With this popup notification WhatsApp feature you can read the messages without actually opening the app.
5. Use WhatsApp Widget
Like many other messenger apps, productivity apps, personalization apps, etc, WhatsApp also provides widget that we can use on home screen of our Android smartphones to see notifications/message on home screen without even opening the app. Reading the messages from widget placed on home screen of your Android smartphone will prevent message seen blue ticks to appear on senders' screens.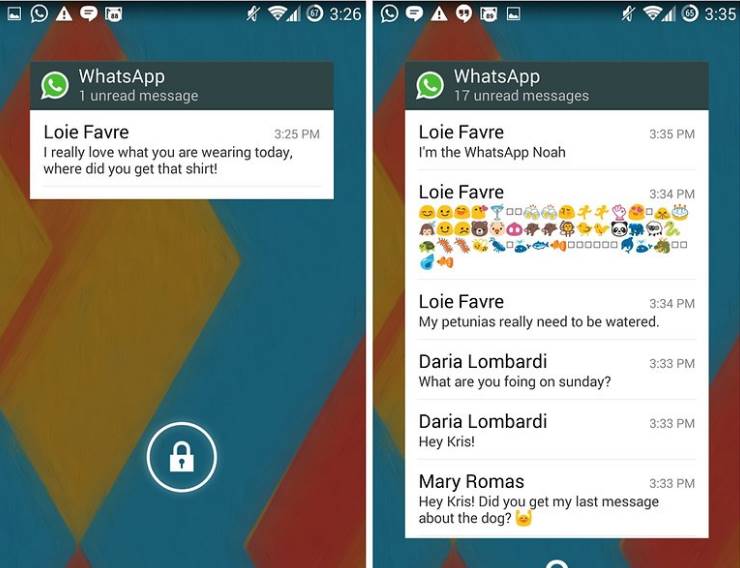 So that how we read the WhatsApp messages without letting our sender know it 😀 Comment if you have any questions regarding the article.