Applications today play an important role in the smartphones. All the Android phones come with a default Google Play Store marketplace that holds a huge database of free as well as paid apps for download. However, very few people these days know that there are many other marketplaces other than Google that offer them many more free applications which are unavailable in the Play Store. Though the Play Store has several flaws and complicated interface, people still use it since the Google marketplace comes as a default one with all the Android devices.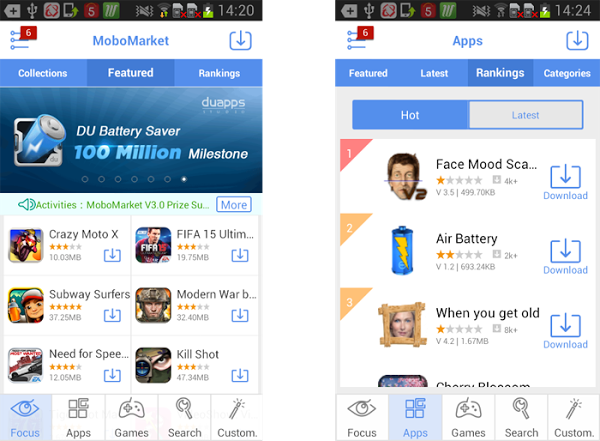 Analyzing all the loop holes and complicated interfaces, Moborobo.com – a leading Android application development company has come up with an outstanding marketplace named MoboMarket. In the industry for quite some time now, MoboMarket has over 100 million users across the globe. Moreover, the marketplace has 40 million daily distributions and over 5 million daily active users. Thus, the number shows the efficiency of this marketplace.
MoboMarket was developed with a sole purpose to provide great applications for the Android users and help the aspiring developers all over the world to feature their developed applications. Since the Google Play Store does not allow all the applications developed in their marketplace, the aspiring talents across the globe were unable to get enough exposure. And thus, with the help of MoboMarket they were able to feature their applications to the world.
So, MoboMarket is now just a database of huge number of applications and is a store for all the free apps that are well organized in its database. With a wide range of categories, this marketplace ensures to list each and every app based on their use and genre. Hence, it becomes all the more easy to find any application listed under it. Along with this, the app also provides you with a dynamic search option that helps you in searching any app based on its keyword.
Another exclusive feature of the MoboMarket is its geo-targeting functionality. This feature helps all the users to get some of the most exciting apps near them or based upon their geographic location. This functionality thus helps users get their hands on some of the amazing apps, events, offers and discounts available nearby.
Along with a well-organized market place and extremely smart features like geo-targeting apps, MoboMarket also ensures to provide a simple and user friendly interface. Right from differentiating categories to organized tabs, browsing through their database becomes very easy. The store also provides a different section to help you with trending apps within the store.
This month, MoboRobo.com is completing its successful 2-year anniversary and on this occasion has decided to take the MoboMarket to a completely new level. They have released the MoboMarket 3.0 version with more amazing features and functionalities. According to sources, the new version will be loaded with a much better and precise operation interface along with improved geo-locations and content pushing systems.
Already a widely used marketplace within North America, South-east Asia, Middle East, and North Africa, the marketplace is all set to be popular worldwide with it improvised 3.0 version. Hope the store achieves greater success in coming time.

Website: http://www.moborobo.com/
Facebook Page: https://www.facebook.com/MoboroboEN
https://www.facebook.com/MoboMarketEN
Twitter: https://twitter.com/Moborobo_EN