With Microsoft already having released its latest iteration of Windows Phone OS and Apple raising the curtains off iOS 8, our friends at Google weren't expected to stay quiet for too long. The company finally broke its silence at the Google I/O 2014, showing a number of projects that it's currently working on. All that was pretty interesting, but the show was clearly stolen by the latest iteration of Android dubbed the " L release", an identity that is likely be discarded for something sweeter, perhaps "Lollipop", once it's out this fall. Understanding the integral role of developers in Android's success, Google did not waste too much time to give them a preview of the newest version of its OS, the developer SDK which went live soon after. Let's take a quick look at some of the highlights of the latest mouth-watering treat that we've been offered to munch on.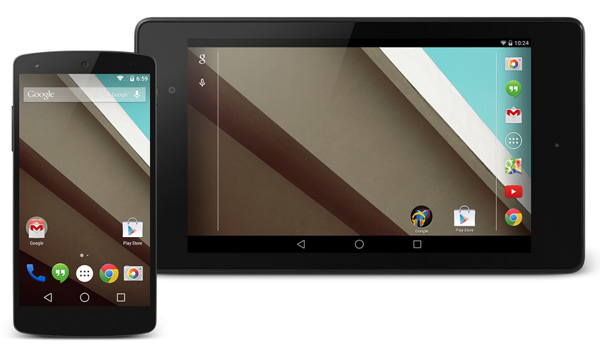 A Major Uplift
In a bid to make the Android experience feel beautiful, intuitive and seamless across different screens, Google has wagered its money on material design. The new design language breathes new life into the UI elements through bold graphic design, colors, dynamic, real-time shows, and fluid motion. Aside from improving the visuals, it also makes the touch experience more responsive. All these things combine to open a world of opportunities for creating visually captivating apps for an overall multi-device world.
The ART of Performance
Android may have undergone many changes over the years, but one thing that had remained consistent all this time was its runtime, Dalvik, until it completely got replaced by Android RunTime (ART) in the L release. Unlike its predecessor which uses a just-in-time (JIT) compiler to compile the software packages every time the app is run, ART compiles the software packages only once at the time of installation using the ahead-of-time compiler. This has the potential to improve the performance of apps by two-folds, while improving upon developing and debugging features. With the compute cycles reduced, the battery enjoys a significant amount of relief as well.
More Control over Battery Consumption
Balancing app performance with battery consumption is something that has long proved to be a nuisance. However, that may be about to change, courtesy of Project Volta, a battery-minded initiative. Android L release comes with new tools and APIs that will make it possible to run apps efficiently without consuming too much juice. The stat-loaded Battery Historian tool gives a very good idea of how the app is using battery, while a job scheduler API gives control of how the app should react to different battery conditions, such as running low, being plugged, etc. Knowing how the app is impacting the battery creates more space for fine tuning of apps for greater performance without any significant trade-off.
New Gaming Features
With mobile gaming on the rise in recent years, Google is aiming to deliver a gripping experience through desktop-like graphics. While the accomplishment of this aim may take a while, the company has definitely taken a long stride towards this with its new OS, which comes loaded with support for OpenGL ES 3.1 that offers capabilities such as computing shaders, stencil textures and texture gather. The platform's graphical capabilities are further enhanced by the Android Extension Pack (AEP) that comprises of tessellation, geometry shaders and Adaptive Scalable Texture Compression (ASTC) across multiple graphical processing unit (GPU) technologies.
Tying It All Together
Aiming to bring together a wide range of products like phone, tablet, TV, car and wearables, many of which are still in the works, Google has prepared a ground for their integration with the Android L release. The Bluetooth Low Energy (BLE) peripheral mode allows apps running on one platform to broadcast their presence to nearby devices, thus creating a digital environment where everything is connected. That being said, it may be a while before the full potential of this technology is fully realized.
It is hard not to get impressed by Google's latest offering. The tech giant seems to have read the future well and laying a solid foundation for itself to do well once it arrives. Of course, the success of the Android L release depends heavily on how well developers are able to tap into its true potential and create magic to enchant the end users.
This is a guest article by Katherine Kayden who blogs about cell phone and computer monitoring software over at stealthmate.com