Out there are many obstacles that people are not able to access YouTube videos in many countries, I was also not able to access YouTube from Pakistan but now, I'm able to view all the videos that are hosted on YouTube before that I used to use proxy sites to view YouTube videos. But let me tell you that never use proxy servers to view YouTube videos because they can make your computer full of malicious viruses. Proxy sites come with millions of advertisements which includes Iframe ads, full-page ads, popup ads, that contains viruses and more. However, in this article you will find the best way to access YouTube videos without any proxy site. So, do you want to know how to access all YouTube videos without proxy site? Yeah, of course you want to and I hope you will like it.
Before I begin to start it off, let me tell you that I've already wrote an article about Top Best YouTube Unblocker Android Apps to access YouTube in Android smartphones/tablets.
YouTube Videos without Proxy Site
Entermint.com is one of the best way to access all YouTube videos without any problem and so far it worked fine for me that why I've just shared this site to my fellow Bloggers and Android users. Access All YouTube wherever you are. Unlock YouTube without Proxy site.
So, on visiting the homepage of the website all you need to do is to simply search your song keyword like Katy Perry Songs and the songs will be listed on the page on clicking any search result the song will be played.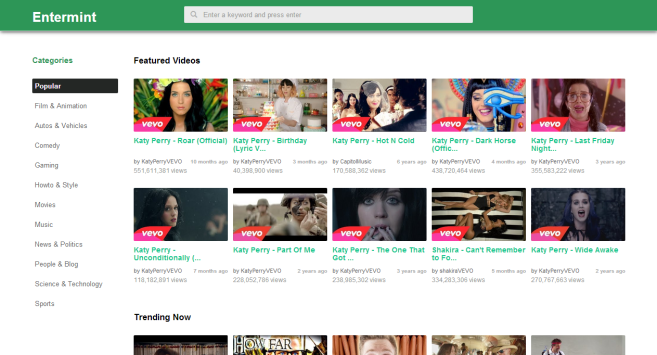 It is the best source to find and play YouTube videos in your country if YouTube is not working in your country. I love Entermint.com which made my journey to access restricted videos on single click.