Music sharing platform is one of the best way to share sounds, musics, podcasts worldwide. Music sharing platform website can be filled up with entertainment, musics, sounds and more. People love to entertain and listen musics online. In this way, currently the most popular online music platforms are i.e., Deezer, and Soundcloud.
You can listen millions of musics, songs using a music sharing website and people really love to hear musics online. People love to explore new musics, discover new people and engage with artists on music sharing platforms online and share favorite music with their friends on social networks. The best part of music sharing platform is that it helps its users to create playlists and organize their musics the way people like.
In this article, you will find the best way to create a music sharing platform website with PHP but you don't need to learn PHP in order to create a music sharing platform, huh! Confused? 😯
Well, you don't need to be confused in anyway lol. Because in this article I'm going to share a best way to create music sharing platform that doesn't require any web coding experience like HTML, CSS, or PHP server scripting language. All you need to do is to install a script on your website and set it up by following a simple documentation guide.
If you have been looking to build a powerful online music sharing platform like Deezer or SoundCloud then you are on the right webpage and reading a valuable piece information because after reading this you will be able to create an online music sharing platform.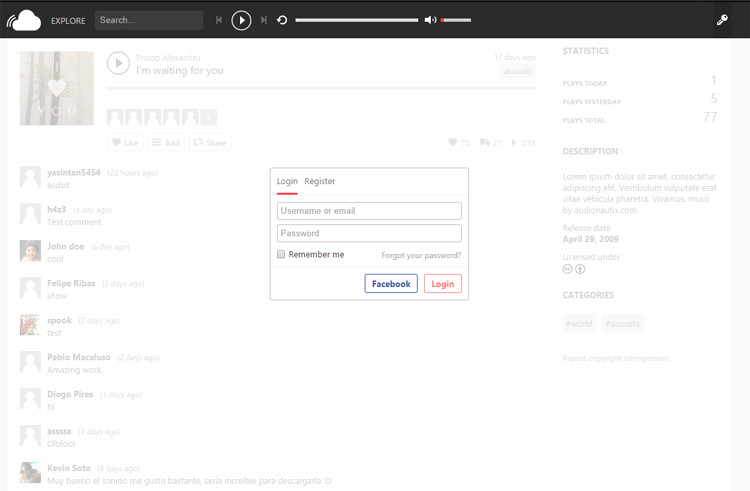 phpSound is a social music sharing platform script similar to SoundCloud, that allows users to upload their music online and share them with the world. phpSound script is completely functional and it have all those features that a music sharing platform should have. Here is the list of features that phpSound script have:
Features:
Built-in Pro Accounts
Upload you music, create Playlists, etc…
Stream, Explore and Profile pages and more
Likes, Sharing and Embedding system
Notifications on likes, comments, chat
Multi-language-system with 1 file translation
Themes system (easy to understand system)
Advanced tracks, users and site statistics
Retina display ready with responsive design
And much more…
phpSound is a unique software with original modern responsive design and retina display ready. PayPal and Facebook integration for Pro Accounts and social authentication. It supports all major browsers and big operating systems like Android, Windows-phone and more.
There is a stream page that keeps you up to date with the latest songs of your friends. If you are looking to discover more, then using the tag filters you can do and explore more. If you are music creator/singer and want to get featured in the world then you can design your profile and let the world know more about you and your musics.
Just like SoundCloud, you can share via all major social networks such as Facebook, Twitter, Google+, Pinterest, etc. You can also email musics or share via direct links. If you are entertainment blogger, and want to embed tracks on your online website/blog then you can embed tracks using the built-in embedded player, with autoplay function and responsive design.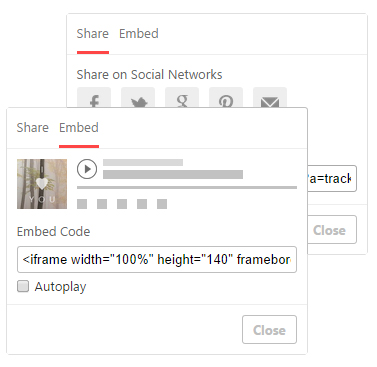 You can keep track statistics such as Plays, Likes, Comments and more advanced statistics such as Top Countries, Top Cities, Most Played, Most commented, Most liked and more…