Sync contacts on Android with Gmail account helps you keep your phone contacts, Google+ contacts and all the other profiles synced with on Gmail Account. As Android users love customizing their devices and this time I just realized that they should know this technique about syncing contacts with Gmail. You will need this technique when you want to root/update the firmware of your Android mobile. As you know, while rooting or updating firmware, you're risking to damage data files, SMS text messages and contacts that can be corrupted after rooting or upgrading process if anything went wrong. I wrote this article for Android users, to help them syncing  the stored Contacts in your Android with your Gmail account seamlessly.
Sync Contacts on Android with Gmail
Make sure that your contacts should link with the Gmail account. To do so follow the steps below:
Open your Contacts list
Go to Menu/Settings button
Now, select 'Merge with Google' and then confirm the action. If you have more than one Gmail accounts use the one that you wish to use as default to host your contacts
Once the everything has been successfully merged, a pop-up message will automatically notify you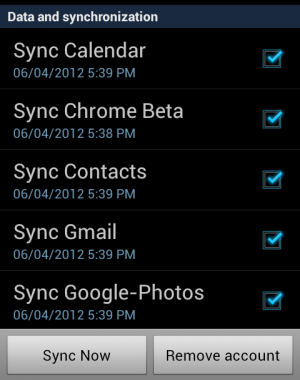 How to sync your contacts with the Gmail account:
First of all, make sure that you have Gmail Android application installed on your device
Open App Drawer and go to Settings > Accounts and Sync
Enable the Accounts and syncing service
Select Gmail account from e-mail accounts setup
Now, at this point double-check that you have enabled 'Sync Contacts' option (as in the above image)
Finally, press Sync now button and wait until all the phone contacts have been successfully synchronized with your Gmail account
Login in to your Gmail account from your PC web browser and click the Gmail text link that is listed on the upper left side of the Gmail profile
Select Contacts and you will see all of your contacts from Android smartphone have been stored.
Feel free to comment below, If you have any questions.