Hi friends, I love Android mobile OS which gives me many things done in just a few minutes and sometimes seconds by only a couple to touches over the mobile screen OMG! This time, I'm gonna show you how to backup and restore SMS in Android. This comes when you go into rooting and upgrading process. At this point, backup and restore SMS becomes necessary to get your personal SMS stored just within your MicroSD card rather than losing these SMS while rooting and upgrading the version of your Android in your mobile.
All I'm going to tell you in this little article is about an Android application that will let you backup and restore SMS any time seamlessly.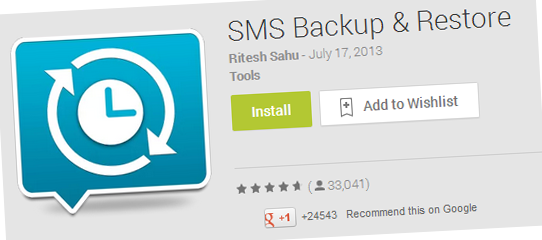 SMS Backup & Restore Android Application
Follow the steps below:
At first place, download SMS Backup & Restore from Google Play which is Android application.
This application works with the latest Android 4.2.x Jelly Bean. After installing this app in your phone, you can start using the app and backup your SMS text messages.
Remember: This application creates the backup files in .xml format and stores the backup files in your SD Card. If you have any other questions about the application, please feel free to comment below.