(Last Updated On: February 13, 2018)
In this age of technology, it is hard to manage things as you dream. But, the great Android developers are working hard to get us tons of features that can really change the way we live. I have been thinking about how to keep my Android data secure, and backup in my drive.
For instance, if I lose it upon factor resetting my device or in case my phone gets stolen.
If you are tired of losing your Android data which you might have faced once in the life time then this article is for you. I have shared 2 widely used Android backup apps in 2018 that can definitely help you to backup your apps and data.
Read: Nandroid backup
Best Android Backup Apps 2018
You might have read Helium backup and restore app (no root required) it is my favorite app and I'm going to list it on top of the list. If you have any problem with me listing helium app on top, comment below.
Helium Android Backup app (No ROOT required)
Helium is the missing app sync and backup solution for Android in 2018. You don't have to root your Android device in order to use Helium. All Android users can use Helium to backup and sync Android apps. This app easily helps you to backup your apps and data to your SD card or cloud storage (whatever you prefer in settings).
Features
Backup and restore to SD card
Backup and restore from PC
Helium (Premium) features:
No ads
Automatic Backup schedules
Android to Android sync
Cloud backup and restore (Dropbox, Box and Google Drive)
Get Helium for Android | Helium Desktop Installer
Super Backup & Restore (Need ROOT)
Super backup and restore app is the fastest data backup and restore tool for Android users in 2018. It is made available for free on Google play store you can download it. For offline use, you can download its apk file here. With super backup & restore you can easily backup apps, text messages, contacts, call history, bookmarks, calendars to your SD card, Gmail, or Google Drive.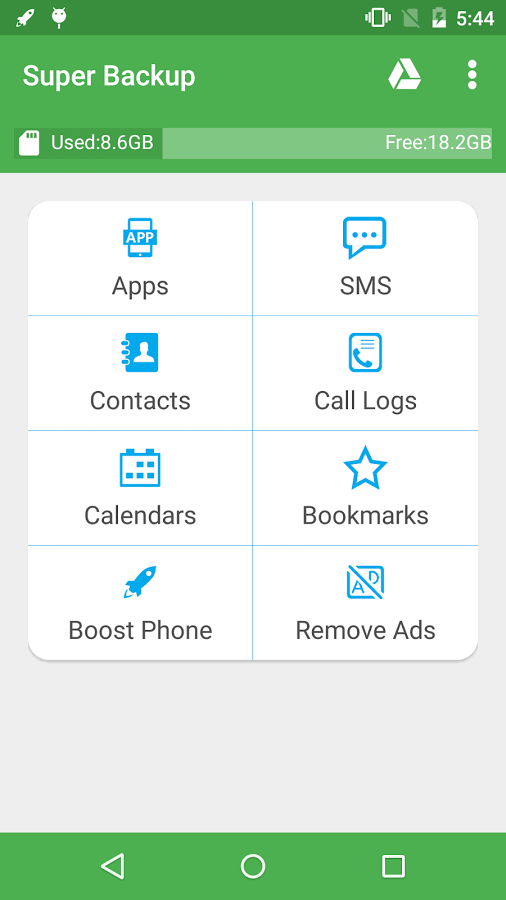 Don't lose your precious data ever again.
Things to remember if you choose to use super backup and restore app:
If you do a factory reset on the phone, be sure your default backup folder is on your external SD card
Just backup entire folder SmsContactsBackup to your external SD card
Then you can do factory reset, otherwise backup may be wiped out of the phone as well.
Since Android M, access bookmarks from 3rd application is disabled, so Super Backup cannot backup and restore bookmarks.
How to make super backup & restore automatic backup to work
To schedule automatic backups, then you must have to add super backup app in the whitelist of these apps i.e., Doze, Task Killer, Memory Clear etc. Not just these apps, any app that helps you to make your phone run fast by disabling running of apps in the background.
SMS not restored?
Please reboot your device after you done restoring SMS, this will make your messages to be displayed in your default SMS app.
Features
Backup apps to SD card
Backup & restore app's data (need root)
Batch restore apps from SD card (need root)
Backup Contacts & SMS & Call logs & Bookmarks & Calendars to SD card
Restore Contacts & SMS & Call logs & Bookmarks & Calendars from SD card
One tap to share APK files
Backup Google Play download link for installed apps
Auto-upload scheduled backup files to your Google Drive or Gmail
Can select SMS conversations to backup
Schedule automatic backups
Can download backup files from Google Drive
Delete the backup data on SD card
Can backup Contact's group and picture properties
Show last backup count & time
User can change backup folder path in Settings
more…
Get super backup & restore Android