Be careful when you go out for capturing Pokémon because if you don't, then you might get killed or robbed maybe accident could have happened. We know that Pokemon GO is really a productive application besides we use it for FUN only. However, if you look around and you will find yourself walking more, socializing more and overcoming anxiety and depression by leaving the house. But you must have to worry about some of the most important things to avoid when playing Pokémon GO.
I mean, that's good game and I don't hurt anyone's feelings especially those folks who are gone insane about Pokémon GO and playing it day/night. Of course those are tremendous benefits, and it's awesome to see people getting so much out of the game but we must don't forget to eat, going out for long hours, and don't care about anything but Pokémon GO.
I writing this article because I have seen so much worst things that could have happen while playing Pokémon GO so be careful. Below you will find things to avoid when playing Pokémon GO (Be careful). Previously, we had published an article about things to do if you wanna save battery life while playing Pokémon GO.
Things to avoid when playing Pokémon GO (Be careful)
Don't get killed playing Pokémon GO on roads
I found people in such a really bad condition when they play Pokémon GO recklessly walking on the roads and most of the times they run into car accidents. When someone sees that they are real close to some Pokémon specie they stop caring about anything else because they gotta capture that Pokémon in any case.
I come across a really funny vine video from YouTube that grabbed my full attention and I'm sure you wanna see this, and figure out that how you may get killed playing Pokémon GO on roads.
Don't Go any place that makes you worried (while playing Pokemon GO)
It is obvious that you wouldn't wanna to go somewhere that makes you feel worried. If you are feeling uncomfortable about some place but you still wanna catch that Pokemon from your mobile screen, STOP IT. Take a U-turn bro, before you got ROBBED or something worst.
If you are not used to wander in darkness alley at 3:00 AM normally, don't do it for Pokémon Go. Mostly, you will find Pokemon in backyards, behind fences, and inside buildings but getting out for Pokemon capturing at midnight and you find places where you can get good specie Pokemon then I must tell you to stop and don't go. Because game has no idea whether it's safe or legal to go to those places. You have to worry about yourself because game owner haven't had time to mention the dangers of playing Pokemon GO.
A simple piece of advice: Don't wander around those places where the game doesn't belong.
For example, you don't have to go to hospital, police station, museum or graveyard to find find and catch Pokémon. I know, in the game world everybody may have nothing better to do than catching, hatching Pokemon monsters but lookup in real-life where you could cause major disruption in your life.
Additionally, if you're planning to explore somewhere new make sure your people around you know it where you actually are going. It is really bad and dangerous if no one from your family know where you had been or going to.  For night crawlers who wanna go out explore at night must wear bright colors so people around you can still see you in the dark.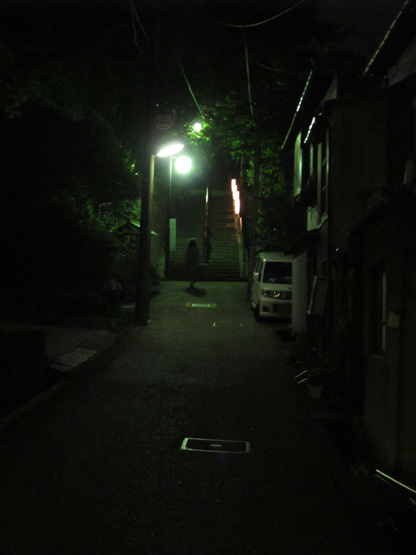 Beware! Pay attention how you look while you play Pokemon GO
That's the most important part that's should be taken care of at high priority. When you play Pokemon GO frankly you have no idea how you look and what people sees around you while you have no idea about anything at all. An onlooker who is not aware of the game can get the wrong idea if you are playing hours in public. Of course it is not necessarily means that you shouldn't play the game in public but pay attention to the people around you and if someone asks you about it be polite and explain the game to them.
Note: You might be asked to leave if you are standing on someone's property and it's probably better to leave rather than fight about it.
Conclusion
Also, if you are planning to get your Pokemon eggs prepared and going out for long time then you should get supplies with you. Get a bag pack with you. You must be very cautious while playing Pokemon GO and keep an eye on your stuff and don't mess with strangers sure they are playing Pokemon GO too but you can't trust them that easily. DON'T PLAY POKEMON GO WHILE DRIVING. If you have any better suggestions to improve this article about Things to avoid when playing Pokémon GO (Be careful) we would be happy if you can comment them below.