Have you been playing Pokemon GO game on your smartphones? If so, then I'm sure you gonna love PokeWhere Realtime Pokeradar Android app. This app is mainly developed for Pokemon GO gamers who are enthusiast about finding and capturing new Pokemon monsters daily.
Also read: Save Battery Life while playing Pokemon GO | Dangers of Playing Pokemon GO
Well, you can have a real-time radar system to find out new Pokemon using Pokewhere Android app right on your smartphones. I loved PokeWhere Android application and I bet you gonna love this too. So, in this article I'm going to show you the best ways you can use PokeWhere app to capture new Pokemon and make up a real great team with some other Pokemon GO gamers.
Download PokeWhere Realtime Pokeradar APK for Android
Using PokeWhere Android app you will be able to have a Pokemon radar system on your Android smartphones that will show you the location of Pokémon nearby you in real-time.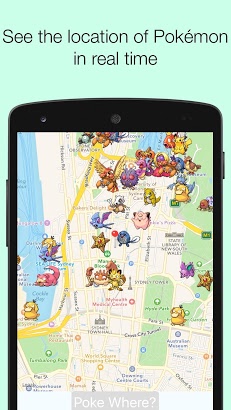 How PokeWhere Android app Works?
After running the app PokeWhere in your Android smartphone
Go to your location by clicking the button on the top right
Then, when you move the map around you will see a 'fetching..' icon appear at the bottom to let you know it's looking for Pokemon
If you didn't find any location
You have to long press on the map to scan that area for any
Once Pokémon have appear you can tap the Pokémon to see the expiration timer of when it will despawn
As you move the map it will check for Pokémon in that area with a loading indicator saying "fetching" at the bottom of the app. If it finds nothing you might need to scan by long pressing in the area
However, if you want to scan a certain area on the map then you will have to long tap on that area, and a pin will show up in that area
Press on the pin to show the status of the scan
If you already know how Pokewhere works then you can just go to the link below and download PokeWhere Realtime Pokeradar APK for android.
Download PokeWhere Realtime Pokeradar APK for Android