In this article, you will get best ever Samsung Galaxy S5 experience right in your Android device. If you are curious about using Samsung Galaxy S5 and want to buy that device for your personal use but can't afford it you can simply get Samsung Galaxy S5 experience in your current Android device. To how? Just read the rest of article. Well, maybe you call it hilarious but trust me it works like a charm.
HAHAHA! It's GALAXY S5 Experience about which I'm talking…
It's a best Android application that allows you to have Samsung Galaxy S5 experience in your current Android device what it is. Yeah, I'm not joking, seriously.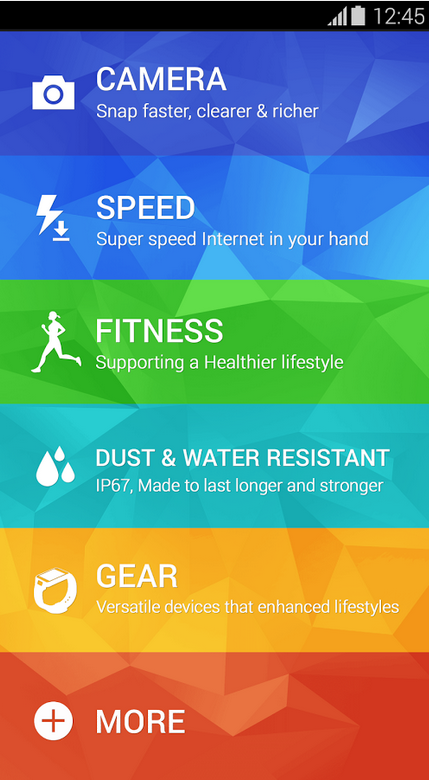 GALAXY S5 Experience Android application provides interactive intro on GALAXY S5 and Wearable Devices (Gear2 , Gear Fit) with 4 different categories such as Camera / Speed / Fitness / Life. Find out everything about the GALAXY S5's amazing features through this easy to use GALAXY S5 Experience Android app.
Samsung GALAXY S5 Structure
Here is how the Samsung GALAXY S5 Structure is:
GALAXY S5 Feature Experience mode
– Interactive experience modes offered in an intuitive way
GALAXY S5 Hands on Video
– Video clips of key features (linked to YouTube)
GALAXY S5 Design Preview
– Experience design with different colors and angles
Wearable Device(Gear2 and Fit)
– Introduction of Gear 2 and Fit main features
GALAXY S5 Accessories introduction
– Introduction of GALAXY S5's key accessories
Minimum Requirements:
Samsung GALAXY S5 Experience App doesn't support tablets at the moment.
Get GALAXY S5 Experience in your Android NOW!!!