So, WinDroid Toolkit is a Windows software that works on your Windows operating system. It is built-in Visual Studio using the C# programming language. Windroid toolkit really simplifies the Android rooting process for many devices. You can unlock, root, flash more than 170+ Android smartphones.
The Windroid toolkit makes it easy to unlock bootloader of your device, flash a custom recovery (custom recovery is more like a third-party program that you can flash over your smartphone). With WinDroid toolkit, you can gain permanent root. It also includes other functions such as flashing kernels, pushing files and installing apps.
Download WinDroid Toolkit 3.1
We have always wanted to have an all in one Windows software that performs i.e., unlock bootloader, flash a custom recovery, etc. With WinDroid, we have that toolkit ready that helps us to root our Android devices in just a couple clicks away.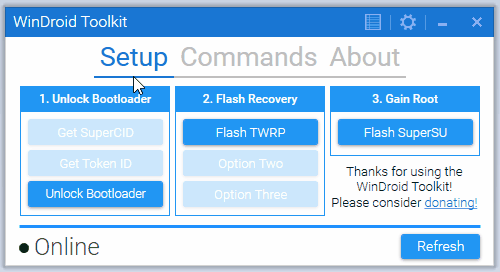 Download WinDroid Toolkit v3.1 | Fast Download from Google Drive
Top 25 Supported Android Devices by WinDroid
OneTouch Idol 3
OneTouch Idol X
OneTouch Pixi 3
Android One
Galaxy Nexus
Nexus 4
Nexus 5
Nexus 5X
Nexus 6
Nexus 6P
Nexus 7 (2012)
Nexus 7 (2013)
Nexus 9
Nexus 10
Nexus Player
Nexus S
Huawei Honor 5X
Huawei Mate 8
Huawei P8
Moto G (2014)
Moto G (2015)
Moto G Turbo
MotoMaxx
Moto X
Moto X Force
Moto X Play
Moto X Style (Pure)
To see if your Android device is supported by WinDroid, check if that's listed on this spreadsheet.