After computer hard drive, USB data traveler the others being cloud data storage services that help you to save your digital data on the cloud servers that can be accessed from all over the world wherever you have access to the internet. The cloud data storage providers are responsible for keeping the data available and accessible, and the physical environment protected and running. Out there are many great cloud data storage Android apps that you can download and use to store your digital data right from the application interface.
In this article, you will find out the best 20+ cloud data storage Android apps. We have compiled this list of cloud data storage apps on the basis of Google play user reviews so don't get hurt if you don't find a cloud storage app that you are using in the following list.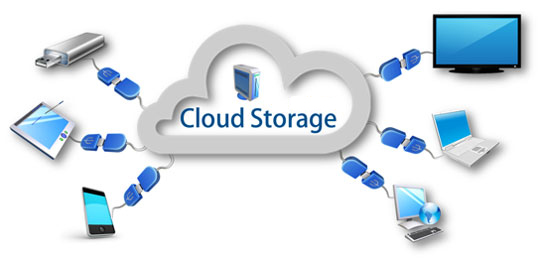 Best Cloud Data Storage Android Apps
Dropbox
Dropbox is a free service that helps you to store your personal photos, music, videos, and important documents in cloud servers so that you can access them wherever you go. Dropbox is really amazing way to save your personal data on the cloud server, you can also install Dropbox on your computer and start saving files to your Dropbox that will automatically save to all devices even in your Android device application.
With the Dropbox app, you can take everything that matters to you on the go.
2 GB free cloud storage
You more cloud storage on referring friends to Dropbox i.e., up to 16 GB
Available for Windows, Mac, Linux, iPad, iPhone, Android and BlackBerry
Dropbox secures your files with 256-bit AES encryption and two-step verification
Google Drive
Google Drive is one of the best way to store important docs now available for Android users. Let's see what Google Drive brings for Android platform. Google Drive for Android is not only the best way to store but also a great way to place all important files in one place.
Get 15 GB free space
As Gmail is used by million of people so that Google has enabled a feature to upload attachments directly to Google drive for cloud storage
MegaCloud | 8 GB Free Storage
MegaCloud is a free cloud data storage service that helps you to backup, store, sync and share your photos, videos, music, and more with friends across every device that have access to internet.
You can get 8 GB free data storage if you download and use MegaCloud in 2020. Using this app you can manage and share your photos, documents, movies and music on the go, easier than ever before.
JustCloud
JustCloud is one of the leading cloud data storage application that helps you store your important docs on the cloud server to make them available on the internet so that you can download you docs from all around the world with an internet connection. JustCloud is constantly adding to it's already rich product feature set. Access all of your files from anywhere using the JustCloud Android app in 2020. Listen to your music, watch your videos, open your documents and view your photos all from one easy to use application. You can also use the PC version of JustCloud by clicking here.
1 GB free space
PC, Mac & Linux Compatible
Encrypted And Secure
SkyDrive
SkyDrive is the place to store your files so you can access them from virtually any device. With SkyDrive for Android, you can now easily access and share files on the go. You can also upload photos or videos from your phone to SkyDrive.
15 GB free space
Available for Windows, MAC, Xbox, Windows Phone, Android, iOS (Here is the download page)
Offline mode is available
G Cloud Backup
G Cloud backup is the most amazing cloud data storage Android app that will help you protect your SMS messages, contacts, documents, settings, call logs, photos, music and videos to a secure cloud location. You don't need to worry about your important documents anymore. This app comes with free 1 GB (which is enough for most devices) with the ability to earn up to 10 GB free.
Degoo 100 GB Free Cloud Storage
Degoo is one of the best leading free cloud data storage service across the world that gives you 100 GB free cloud data storage not like Dropbox, Box, Google Drive that only offer you 10 – 15 GB free storage which I feel is not enough for photos, videos and other media files.
100 GB free space
Each referral add up to 10 GB of space
Auto-backup files from all of your devices to your personal cloud
Amazon Cloud Drive Photos
Amazon Cloud Drive allows you to store your photos and personal videos to a secured cloud server. This app gives your smartphone/tablet a 5 GB free data storage. Your photos and personal videos are saved to the Cloud automatically so you don't have to worry about losing them, even if your device gets lost or damaged.
Download Amazon Cloud Drive APK
pCloud: Free Cloud Storage
With pCloud you get up to 20GB free cloud data storage which you can use to store all of your important document files like personal phones, music, videos, office work and access them anywhere on any device. You can also allow the access and share photos and videos with your friends. You can automatically backup all your photos and videos to your secured cloud account.
10 GB free space
10 GB more with referrals and bonuses.
pCloud Pro 100 GB, 300 GB or 1 TB plan available
Offline access is available
Verizon Cloud
5 GB free space
Keep your phone's content safe and secure in your own private cloud storage
Restore content backed up from your previous phone to your new phone
Access your content when you need it, even on the go, on any compatible device, your PC or the web
Sync contacts, photos, videos and more from Verizon Cloud to your device, and then share that synced content with your friends and family
Sync the last 90 days of text messages on the first sync, and all new text messages thereafter
Back up content from your PC or Mac's hard drive to your Verizon Cloud using the downloadable desktop client. You can then access that content on your mobile devices
Download Verizon Cloud Android APK
WD My Cloud
WD My Cloud allows you to view photos, watch videos, stream music, and access documents from your WD personal cloud or your cloud services. This easy to use app also lets you transfer files between all of your cloud storage solutions and upload photos and videos directly from your phone or tablet camera roll.
Box
Box cloud data storage Android app is built to give you secure way to manage and share all your files, photos and documents with 10GB of free cloud storage.
Get all your files at your fingertips
Access your content online, from your desktop, and on your Android smartphone or tablet
Share important photos, videos and other documents
Stay in sync with your colleagues, friends and family
10GB of free cloud storage to back up all your docs
View and print 100+ file types, including PDF, Word, Excel, AI, and PSD
MEGA
Mega is big cloud data storage Android app that allows you to store your content photos, videos, music, etc. This data storage service is secure that gives you 50 GB for free. Unlike others cloud storage providers i.e., 10 – 15 GB free. The name of this application says itself that a MEGA storage free.
50 GB free space
Data is encrypted and decrypted
SugarSync
SugarSync is the simplest yet most powerful way to sync, share, search and access all of your files – documents, photos, videos and music. SugarSync for Android puts all of your files from across all of your computers right at your fingertips, making you more productive when you're on the go.
Zip Cloud
Zip Cloud Android app is the fastest and most efficient way to access all of your data on the move. With Zip Cloud all of your data is at your fingertips. Zip Cloud puts all of your data from all of you backed up computers in one place, ready to access from an incredibly intuitive application.
DS Cloud
DS cloud is the counterpart to Cloud Station for your Android device. It allows you to choose the folders on your DiskStation which you want to sync to your mobile device and make available for offline viewing. DS cloud also gives you total control over the sync criteria: for each folder, you can set the maximum file size as well as the type of files you wish to sync.
MEO Cloud
The MEO cloud is a hosting service and file synchronization that offers 16 GB free. Keep your files safe and accessible from any device (computer, tablet or smartphone).
1&1 Online Storage
1&1 Online Storage app will give you mobile access to your data in the 1&1 Online Storage. To access your 1&1 Online Storage, simply enter your 1&1 e-mail address and password.
Download 1&1 Online Storage APK