We usually think of Google Maps whenever we talk about GPS navigation apps. Many users recommend this app as it is the most used Android app among GPS navigation apps. Additionally, It also gets auto-updated. Google got ranked higher in navigation particularly over a few years back. Although, there are a lot of other options if you don't wanna use Google Maps. That's one of the main reason we have compiled this list of 15 best GPS navigation Android apps to try in 2019.
GPS Navigation Android Apps [Download Offline GPS for Android]
There are many GPS navigation apps available you can download on your Android devices. Sometimes, it's quite difficult to choose the app which are worth taking up your phone's storage space and which ones only waste your money or time. But no worries, best GPS navigation Android apps are just a scroll away, having the integrated specifications such as sharing of location on social media or backwoods hiking routes.
Navigation for Google Maps
Navigation for Google Maps Go is one of the best Android app by Google LLC. It provides GPS turn-by-turn voice guided navigation and also it makes up of Google Maps official Android app. It is best Android navigation app if you have low-memory Android smartphone that means it is lightweight navigation app. Download navigation for Google maps app to get real-time navigation right on your smartphone screen. Now, get turn-by-turn GPS navigation when used with Google Maps Go.
Features
GPS Navigation on smartphones with limited memory

Fast GPS navigation for driving, motorcycles, bicycling even when walking

Get continuous navigation, even on losing your mobile data connectivity

Voice-guided navigation in more than 50 languages
HERE WeGo
HERE WeGo is one of the serious navigation apps, competing against Google Maps. It specializes an elegant and simple interface along with various mapping options throughout the world. You can also use its offline version in your area. It might be helpful for the areas where a data connection is slow or doesn't exist. It also displays traffic information if available and maps for public transit. HERE WeGo app also lets you customize and save locations for instant directions later. It's completely free of cost.
MapFactor GPS Navigation Maps
Here is another low key navigation app i.e., MapFactor, offering basic GPS and navigation features. This app supports Open Street Map which means that you are able to have free offline maps which gets updated every month. There are other map options also but they are costly. The prominent features of MapFactor include cross-border routing, voice directions, day and night themes, 2D and 3D modes, and a lot more. This offline GPS navigation app is available in many countries throughout the world.
MapQuest
MapQuest has gone through many attempts of redesigning over the past years. Although, it's the sturdy app which employs the modern turn-by-turn directions. It is launched to deliver the benefits for hikers. They are live traffic updates, routing directions (based on traffic), as well as a service to get you cheaper gas. This app is also known as a tow truck. Although It's not as best as Google Maps it's a great way to get most of the navigation features at a lower price.
Google Maps and Waze
Both of the navigation apps are superb in features and both of them are launched by Google. Google Maps navigation app is a type of measuring scale for navigation apps. The app has got locations, directions, reviews, and also street-level photography of different locations. Furthermore, you will get access to all advanced features and offline maps. Waze is a kind of simple app for directions, particularly on daily commutes or road trips. This app gets access to user data to display stuff like police locations, traffic jams, and other info. Not only this, but Waze also presents fun voices for GPS and navigation. Install the apps in your device to enjoy free navigation.
Download Waze GPS | Download Google Maps
MAPS.ME – Offline maps, guides, and navigation
If you are looking for a free GPS and navigation app, Maps.me can be the best one for you. It offers offline maps function, turn by turn directions feature, as well as updated maps through OpenStreetMap. You may also bookmark locations, traffic data, offline searching, and also worldwide support. Maps.me is a top competitor of Google Maps. There aren't any app-in purchases.
OsmAnd — Offline Travel Maps & Navigation
OsmAnd is a bit different than other GPS trackers as it targets directly the users who need offline maps. It's up to you that which one you download in your phone and which one you navigate online. If you use its free version, it will work for a limited time. has a download limit. You may also buy downloads via in-app purchases. The other features are an offline search, turn-by-turn navigation, maps for things, and many more. Install the app on your device to enjoy free navigation.
Polaris Navigation
It has been trying to be one of the best all-in-one navigation apps and has been making progress day by day. Polaris Navigation also gets access to Google Maps, MapQuest Maps, OpenStreetMap, and Cycle Route Maps as well. It also specializes in different coordinate formats, an advanced waypoint management system, trail recording, and also your standard things such as turn-by-turn directions. It offers plenty of other activities such as hiking, fishing, camping, hunting, and other outdoor activities. It is an old app but works well. Install Polaris Navigation app on your device to enjoy free navigation.
GPS Navigation & Maps Sygic
GPS Navigation & Maps Sygic is a broadly popular GPS app that exaggerates more than 50 million downloads since its launch. Like other navigation apps, it also offers offline maps to use. The other common features are turn-by-turn, voice-guided directions, alternate routes, as well as a speed limit display. Sygic also enables you to unlock other features if you buy any of the three premium versions available. The basic version costs around $13.99 while the advanced premium is for $17.99 offering the real-time updates for traffic.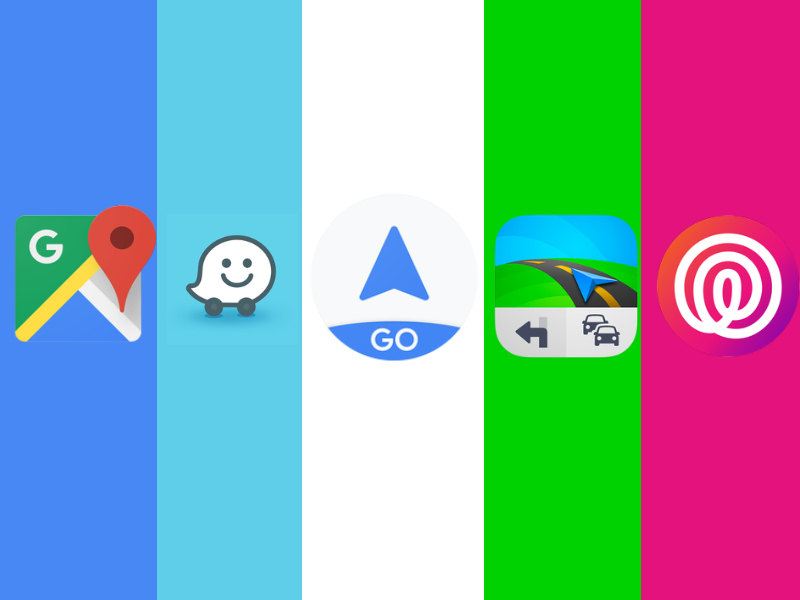 Scout GPS
It is one of the oldest navigation apps having a fresh coat of color. Previously it was known as TeleNav app, later on, it converted its name to GPS app. The appearance and icon are also upgraded with a neat look. It's still a stable and reliable navigation app, providing the users with all of the basic features such as turn-by-turn navigation. Although, Scout GPS pays more attention to people rather than GPS and navigation and that's the thing which makes it unique among others. This app has an additional specification of texting people automatically if you set ETA which alerts you whenever other people need your help. Download Scout GPS app on your device to enjoy free navigation.
CoPilot GPS
Here is another GPS app for android without internet i.e., CoPilot GPS. It provides route planning support for cars, RVs as well as larger trucks. You can use this navigation app to find out the locations such as restaurants, clubs, etc. Premium version supports traffic information, audio navigation, and 3D maps also. The price of the premium version app starts from $13.99 to $99.99 per year. It supports Android and iOS devices. Download & install CoPilot GPS app on your device to enjoy free navigation.
TomTom GPS Navigation – Live Traffic Alerts & Maps
TomTom Go, launched by GPS device maker, is a GPS tracker, specialized in live traffic data, offline functions, voice navigation, and 3D maps. It also supports maps for foreign countries if you wish to go on an international road trip. The premium version of TomTom Go costs almost $19.99 annually. You can download it on Android and iOS devices both.
GPS Navigation System, Traffic & Maps by Karta
You can use the Karta GPS app to customize with different voices and icons. It offers offline maps downloads. Additionally, it can calculate the route with the help of traffic data and displays turn-by-turn directions. Karta GPS app also warns if there are upcoming speed zones. It supports Android and iOS devices. Download & install the Karta GPS app on your device to enjoy free navigation.
Offline Map Navigation
Offline Map Navigation is another free navigation Android application in which you can look for the driving route within a few seconds among different locations. This app also guides you with step by step instructions along with voice navigation so that you travel with ease.
Life360 – Family Locator, GPS Tracker
It is a family tracking mobile app, offering a variety of unique features. The interesting thing of the app is that users are allowed to add circles as well as groups for their friends and family for detecting their locations with their past locations log if needed. It has the best Gps system for the car to send emergency texts, control crashes, and make your driving pattern the best.
BackCountry Navigator
It is an amazing navigation app, perfect for hikers. Although It's quite expensive, the number of features including topographical maps are just extraordinary. This app is best for those locations where data services are not available. Moreover, BackCountry Navigator app offers a variety of features like you can include markers and favorite spots on the map, follow various kinds of trails, and many more. Additionally, you can avail a few map choices. If you purchase its premium version, you can use get its ad-free and unlimited use of the application.
Conclusion
Do you want to find the way without internet? Check out our list of 15 best Offline GPS for android apps free download. Now, you can customize maps, location, icons and more with ease.