MAC address is known as media access control address which is a unique identifier assigned to network interfaces for communications on the physical network segment. IP address a unique string of numbers separated by full stops that identifies each computer using the Internet Protocol to communicate over a network. And there have been a couple of problem that Xperia Z1 users a looking forward to find these MAC and IP addresses and in order to find them you will need to follow this article. In this article, I'll guide you to Find MAC/IP Addresses in Xperia Z1.
2 Ways to Find MAC/IP Addresses in Xperia Z1
If your home WiFi router has MAC address filtering enabled then you will probably need to add your WiFi router's MAC address right on your Xperia Z1 to be Whitelisted.
Method #1
Follow the steps below:
Take up your Xperia Z1, go to Settings
Scroll down and tap over the About phone
Tap Status
Finally scrool down where you will find IP address and Wi-Fi MAC address fields, for more here the screenshot: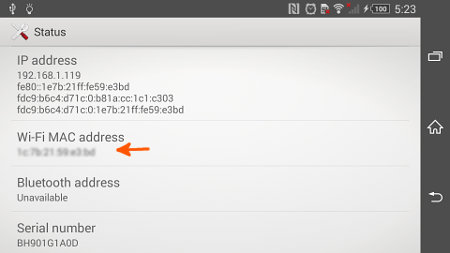 Method #2
Go to Settings in your Xperia Z1
Tap over the WiFi
Tap the Menu button
Select Advanced WiFi
Hopefully, there you can see the MAC and IP addresses
That's all.