GPS navigation is one of the best way to find right path to walk through in this modern age of technology. Technology have made our lives so easy and help us do almost everything that we couldn't be able to do without it. With technology you can easily change you Android device in a navigational tool so easily today. You can use Android map apps to find your way to go from one place to another but if the map apps are not doing well then you must try out the most amazing best reliable Android GPS navigation apps that Android developers have made for you over at Google Play Store. If you don't have internet WiFi access in your Android device then you can simply download the Android GPS navigation apps in .apk format in your PC and install these Android GPS apps by simply using your memory card offline. But to read more details about these Android GPS navigation apps then you must read the rest of article.
In this list of Android GPS navigation applications I've added links for both versions i.e., free and premium. The apps were tested on both WiFi and 3G internet connections and the result found that some apps require internet connection continuously in order to deliver the best information.
Best Reliable Android GPS Navigation Apps
MapFactor: GPS Navigation
MapFactor GPS Navigation is a free application built for Android users using OpenStreetMaps data. All you need to do is to install maps in your SD card so the application can work without internet connections when travelling and more…  OpenStreetMap is a collaborative project that provides accurate information world-wide to create editable map of the world.
With MapFactor Android GPS app you can intuitively get voice navigation in different languages, door to door route planning, cross-border routing without the need to switch between countries or to a less detailed map. You can get 2D/3D modes that will allow realistic visual map display. Using MapFactor GPS Android navigation app you can easily switch to day and night modes color schemes for day or night-time driving.
MapFactor GPS navigator Android
Navfree: Free GPS Navigation
Navfree app is also a GPS navigator for Android which is completely free and offers voice guide navigation, with no hidden costs or charges. Just like MapFactor GPS navigation Android app, Navfree also use OpenStreetMaps (OSM) map data, which is created by individuals like you or millions of people from all across the world. Navfree features on-board maps that makes it possible to access the maps which are stored on your device where there is no internet connection is needed. Therefore it does not require any data connection. Using this navfree Android GPS tracking app you can not only save your money but also get most amazing features like beautiful HD maps, fast routing (no data connection is required), switch to walking mode when you're on foot and offline and online address search.
Get NavFree GPS navigation Android app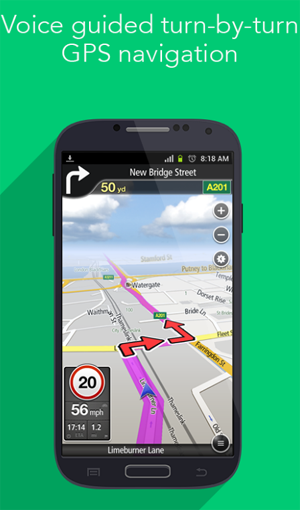 GPS Navigation & Maps by Sygic
GPS Navigation & Maps by Sygic is an amazing world's most popular offline GPS navigation app that especially built to serve Android users. Using this GPS Navigation & Maps by Sygic you can enjoy offline TomTom maps, route planning, POIs and free map updates. There are high-quality maps available from TomTom and by other map providers that are stored on your Android phone, tablet or SD card for use without internet connection. To get extra advanced features there is an option to upgrade to premium that will instantly give you amazing features in advanced mode that you can enjoy lifetime. The advanced features includes 3D maps, turn-by-turn voice-guided navigation, speed limit warnings, lane guidance  and junction view with lane indicator arrows at complex intersections.
Get GPS Navigation & Maps by Sygic Android app
GPS Navigation BE-ON-ROAD
GPS Navigation BE-ON-ROAD is a free GPS offline map and navigation app for Android. It offers you new future updates for both i.e., app and maps. Using this application you can a free license for OpenStreetMap (OSM). Maps are updated multiple times per year in GPS navigation be-on-road Android app. The maps can easily be stored on your device, or SD card. To use them to navigate anywhere with the most recent maps even without the internet connection.
With be-on-road Android GPS application you can use it offline, free map updates, multi-language voice navigation with more than 33 languages, 3D buildings, large POI database to display accurate information wherever you go.
Get GPS Navigation BE-ON-ROAD for Android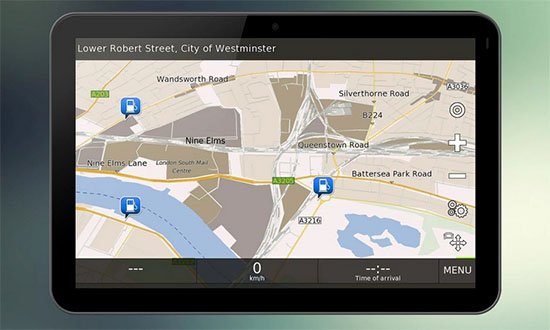 Wisepilot GPS Navigation
Planning to go somewhere abroad? Great, but you must take care of where you go which way to go and so on. In this way, Wisepilot GPS Navigation Android app make it easier to navigate through. Just bring this Android app on your travels and never lose your way. Using Wisepilot you can get flexible navigation, whether you are a frequent driver or simply want guidance on a day trip. You can either use just the free basic features or purchase one or more add-ons, creating a navigation app that is tailor-made just for you. To make it even more personal we have made it available in no less than 25 different languages.
Get Wisepilot GPS Navigation for Android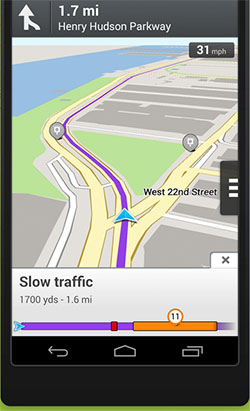 Waze Social GPS Maps & Traffic
Waze is a great GPS navigation Android app which is designed to simplify and keep track every data and road from where you are passing through. While driving just launch Waze GPS navigation Android app in your device and share your journey to anyone like real-time who ever is on chat with you can easily see where you and how's you doing in your car. Just decide the location where you want to go and follow the way that Waze GPS app tells you in 3D map view. Waze Social GPS navigation app also tells you the arrival and departure time. Even you can close the alert when running late due to heavy traffic.
Get Waze Social GPS Maps & Traffic Android app
GPS Status & Toolbox
GPS status & toolbox Android app displays GPS and sensor data such as position and signal strength of accuracy, satellites, acceleration, speed, altitude, bearing, pitch, roll and battery state. This app has already tools included like leveling tool, compass with magnetic and true north, mark or share your location and navigate back later using the Radar.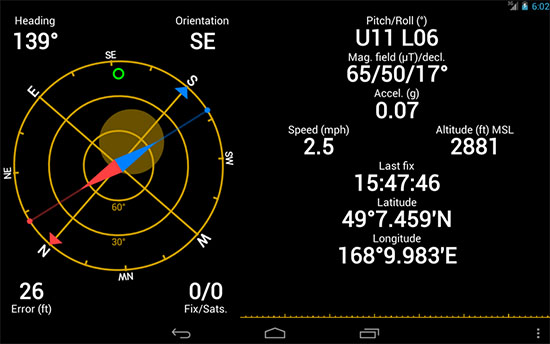 Scout GPS Navigation & Traffic
Drive with Scout GPS navigation & traffic Android app to beat traffic like never before on your daily commute and wherever you go. This application is designed by over 100 million traffic sources, Scout offers even more traffic-beating tools, stress-reducing features, and a design tailored especially for daily drivers.
Just think of this home-screen as your go-to, daily toolbar to view a map of your current location, traffic-based commute times to your work or home address, and local weather. Plus, find any nearby place like restaurants, gas, coffee, and ATMs or any recent destination with just a tap or simple voice command.
Get Scout GPS Navigation Android
CoPilot GPS Navigation for Android
CoPilot GPS is the powerful free offline mapping, route planning and local exploring app from the developers of award-winning CoPilot navigation. It's the ideal travel companion app for over 250 Android smartphones and tablets including Sony Xperia Z, Samsung Galaxy SIII, Galaxy Note 2, HTC One and Droid DNA.
Get CoPilot GPS Navigation for Android