2-factor authentication is one of the best way to prevent hackers from getting in to your Android smartphone/tablet or on your Gmail account. Two-factor authentication helps you to protect yourself from hackers and unauthorized access. According to WikiPedia, "Google was one of the first Internet companies to introduce two-step verification process."
When you enable two-factor authentication either on Google account or on Facebook, you will receive an SMS code on your mobile phone as your second step of verification. If you want to prevent hackers from hacking your personal accounts i.e., Gmail, Yahoo, Facebook, then you must enable two-factor authentication on your accounts because the hackers will not be able to verify the second step unless they have the SMS verification code.
If you know about WordPress CMS then you must read this: Add 2-Steps Verification in WordPress
Authy 2-Factor Authentication for Android
Authy Android two-factor authentication app helps you to bring the future of strong authentication for your convenience with your Android device. Authy Android app generates secure 2 step verification tokens on your Android smartphone/tablet that you can use and protect your accounts from hackers by adding an additional layer of security.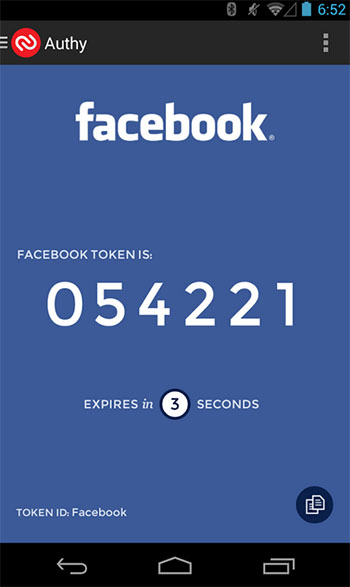 Authy multi-device two-factor authentication Video:
Why Authy Android app is the best 2-factor authentication app?
Authy Android app is best because it provides you secure cloud encrypted backups, which helps you to never lose access to your tokens again even if you have lost your Android smartphone/tablet. These algorithms are also used by banks and the NSA use to protect their information. With Authy you can simply add multiple devices to your account and all of your 2fa tokens will automatically be synchronized. Authy generates secure tokens offline from the safety of your Android device, this way you can authenticate securely even when in airplane mode. We support most major multifactor authentication accounts including Facebook, Dropbox, Amazon, Gmail, and thousands of other providers. We also support 8 digit tokens. Authy allows you to protect digital currency wallets like Bitcoin of other trusted companies like Coinbase, CEX.IO, BitGo and many others.
Download Authy 2-Factor Authentication App