As we know that Google have been our close companion on Internet which help us every single day to find the solutions for our problems. In this way, I realize that Softsribe's readers might also like the best Android Apps Developed by Google Inc.
By the way, this article contains more than 50 best Android apps that are developed by Google Inc developers to help Android users and comfort them with their Android device.
Using these applications you can manage your Android device, can browse the internet faster and more…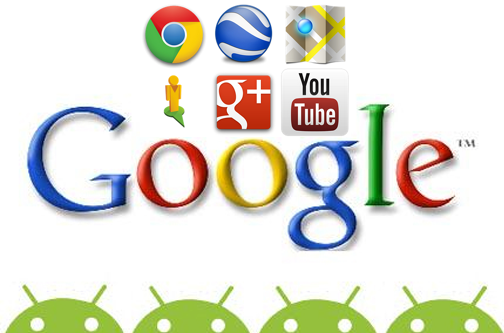 FREE Android Apps Developed by Google Inc
YouTube for Android
Get YouTube for Android and enjoy playing short video clips instantly either become DJ, learn Kung Fu and easily share with friends. Catch up on your favourite videos and playlists from around the world on the couch, in the kitchen or on the go.
Google Chrome Browser for Android

Get Google Chrome Browser for Android and browse fast with the Chrome web browser on your Android smartphone and tablet. Signin to sync your Chrome browser experience from your computer to bring it with you anywhere you go.
Google Earth for Android
Google Earth for Android and flying around the planet with a swipe of your finger with Google Earth for Android. Explore distant lands or reacquaint yourself with your childhood home. Integrated Google Maps Street View allow you to explore the world at street level. Browse layers including roads, borders, places, photos and more. Visit the Earth Gallery to find exciting maps such as real-time earthquakes, planes in flight, hiking trails, city tours, and more.
Google Translate for Android
Break through language barriers with Google Translate. Use the Google Translate for Android directly to switch from one language to another by translating the language in your native language.
Google Maps for Android
Start browsing the world most popular places right from your Android device with Google Maps for Android. The newly designed Google Maps app for Android phones and tablets makes navigating your world faster and easier. Find the best spots in town and the information you need to get there.
Android Device Manager
Did you ever misplaced or lost your phone? Android Device Manager Android app can easily locate your lost devices and helps you keep your device and the data inside it safe and secure. If you use this Android app you can easily locate your Android devices associated with your Google account. It reset your device's screen lock PIN and it erase all data on the phone.
Gmail for Android
Gmail is built on the idea that email can be more intuitive, efficient, and useful. And maybe even fun. Get your email instantly via push notifications, read and respond to your conversations online & offline, and search and find any email.
Google Text-to-Speech
Google Text-to-speech Android app help you to read the text on your screen aloud. Google Play Books to "Read Aloud" your favourite book. Google Translate to speak translations aloud so that you can hear the pronunciation of a word. TalkBack and accessibility applications for spoken feedback across your device.
Get Google Text-to-Speech for Android
Street View on Google Maps
With Google Maps Street View Android app, you can explore the world at street level. See popular landmarks, check out places you want to visit in your hometown or far away, and take a virtual trip around the world.
Hangouts for Android
Hangouts for Android brings one-on-one and group conversations to life with photos, emoji, and video calls for free. Connect with friends across computers, Android and Apple devices. Brought to you by Google+.
Google+ for Android
The Second biggest social network Google+ after Facebook is now available to Android users to use it on their Android devices.
Google Search for Android
Google Search app for Android: The fastest, easiest way to find what you need on the web and on your device.
For more Android apps developed by Google Inc you can visit this page to see the latest and upcoming Android apps. Keep visiting us and if you are looking for something try contacting us maybe we can help.