Hey there, first of all I must tell you that the review I'm conducting on my blog about all web hosting sites are genuine and you will find many hosting reviews even those who are scamming online users. And I myself test the web hosting sites before putting any good or bad reviews about them. Recently, I reviewed about Alibabahost and today I'm going to write a review about WebHostPython.
WebHostPython is a new web hosting site which is doing their best to give great web hosting services to its users. I was looking for a good VPS server from 1 week that accepts PayPal without agreeing upon the monthly recurring agreement that other big web hosting providers are using, so they can charge our PayPal accounts on monthly basis and keep our servers running without any inconvenience.
So, I came across WebHostPython which seems to be an honest web hosting site when I first visited it. By looking at WebHostPython website I was convinced to buy a good VPS server right way but when I researched about it over Google to see if I can get any better reviews about WebHostPython and I found nothing i.e., neither bad nor good reviews since it was a new web hosting company. All I found from Google about WebHostPython is one thread from WebHostingTalk which was not quite satisfying and 2 years old too.
Of course many of us don't chose to buy new web hosting sites just because they are new and it maybe not possible for them to keep my site running 24/7 up time.
I started to signup but after filling out the first form on the second page I was redirected to payment via PayPal and I closed the site because I was not able to trust blindly you know…
After some time on the same day, WebHostPython called me on my phone because I had filled the form back there but couldn't complete the next step.
Phone chat with WebHostPython:
"They asked me why I didn't buy the webhostpython and I clearly told them that it was a bit risky for me to trust blindly since I was failed to find any good or bad reviews on internet. They keep telling me that they are exclusive web hosting providers and it is up to me to buy not ignore. I just told them I just bought hosting from interserver."
So I bought interserver web hosting but after 2 days they couldn't understand the problem with my site and domain A record and all that… They just refunded me my money and I'm not saying that interserver web hosting is bad no, not at all they are cool web hosting providers too.
I just realized that I should have bought the web hosting from WebHostPython maybe they are cool. I just went back and purchased the Red VPS server package from WebHostPython and you know what…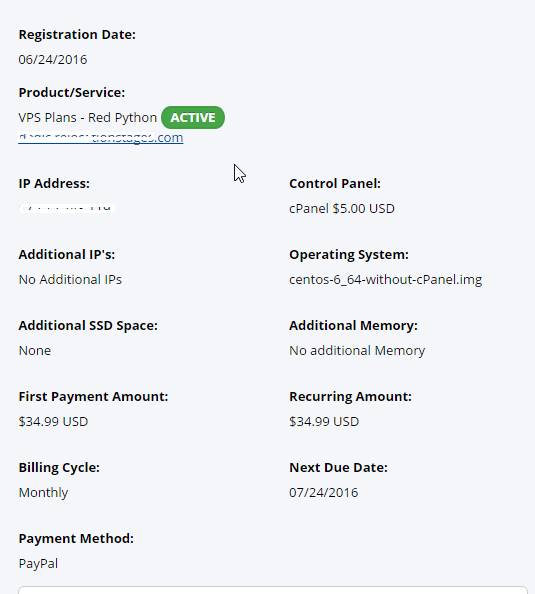 I'm so happy that I made the right choice. Thank you so much WebHostPython you are great web hosting providers.
Quality Web Hosting
Shared, Reseller, VPS, and Dedicated Hosting Services
24/7 Customer Support
Friendly Python/Django hosting services with customized control panel
99% Uptime Guarantee
WebHostPython guarantees 99% up time at all times, or 100% of your money back!
Note: I'm not doing this to earn commission from affiliate program, if you wanna use WebHostPython you can use it otherwise don't.