Recently, when I was browsing the webhostgatorcoupons.com a good website for finding best HostGator coupons that works like awesome. However, I found a really great offer by HostGator that gives 75% off on new hosting accounts this summer. Previous we had published the article about the Hostgator soccer sale offer that gives 45% OFF on new hosting accounts. HostGator should definitely give such great deals because it's been one of best web hosting providers across the world who give us such great discount deals on every single important event.
Recommended Reading: Why Should You Buy HostGator Web Hosting? (Get HostGator Web Hosting Today!!!)
This summer HostGator is doing his best to give great services and discount on its web hosting plans. As this 10 years old experienced company (HostGator) always look ahead to run a promotion for special reasons like this hot SUMMER season.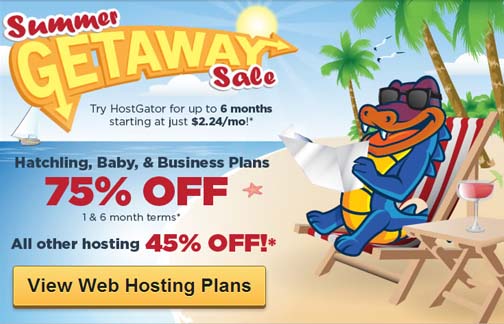 Here are the Summer Getaway Sale details:
75% off all new Shared hosting packages with 1-6 month terms
45% off all other Shared hosting packages
50% off all VPS packages
45% off all Dedicated server packages
Following is the coupon code that you can use to get 75% OFF on HostGator hosting: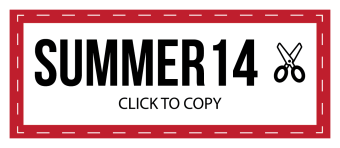 Timezone
The timezone officially announced by the HostGator is:
Starts from Thursday, July 24th at 12:00 AM CST and continue for 96 straight hours, ending Sunday, July 27th at 11:59 PM CST.
HostGator Soccer Sale
HostGator SUMMER SALE 75% Discount offer for all New Hosting Plans starting from $2.24 and domains priced at just $8. The coupon code for this SUMMER sale will be SUMMER14 that starts from 24th – 27th JULY as mentioned above in Timezone section. For more HostGator great coupon offers try HostGator Coupon.
Comment below your opinions that are valuable for us. Thanks.