As Soccer world cup is on the way as it should be and soccer sports are going the way really awesome and competitive. In this way, HostGator is one of best web hosting providers across the world who give us such great discount deals. Now, on this Soccer World cup event HostGator is giving away 45% Off discount deal. Go grab it.
Recommended Reading: Why Should You Buy HostGator Web Hosting? (Get HostGator Web Hosting Today!!!)
The World's largest sporting event is taking place, and HostGator is doing his best to give great services and discount on its web hosting plans. As this 10 years old experienced company (HostGator) always look ahead to run a promotion for special reasons like this soccer (Soccer world cup event).
I've been using HostGator and it gave me that comfort I can never forget, yeah I promise but I'm also not complaining. HostGator always give amazing discount offers and this time, come up with a discount of 45% OFF on all new hosting accounts…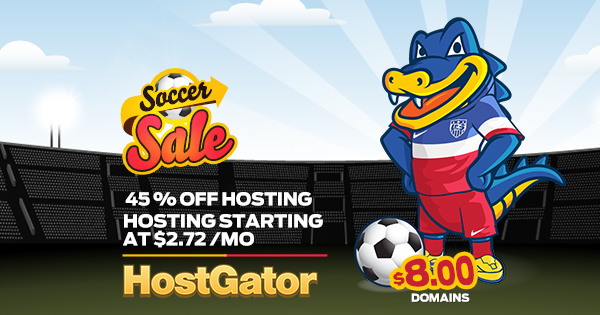 Timezone
HostGator will be celebrating the festivities in Brazil on Tuesday June 24th, from 12 AM CST to 11:59 PM CST. That translates to 5:00 AM (24th) – 4:59 AM (25th) in GMT/UTC time, or 10 / 10 30 AM (24th) – 9:59 AM / 10:29 AM (25th) for Pakistan/India.
HostGator Soccer Sale
All new HostGator Soccer sale 45% Discount Off offer for all New Hosting Plans starting from $2.72 and domains priced at just $8. The coupon code for this soccer sale will be SOCCER that starts from 24th – 25th June in Brazil. For more HostGator great coupon offers try Best HostGator Coupons.
Comment below your opinions that are valuable for us. Thanks.