In today's article, let me just show you the most popular and top Android Chat Apps to use in your Android smartphones. As the chatting has become a tradition now and an easier way to get in touch with Family, Friends, and other people out there. In the following list I've also listed the most popular Android chat apps like NimBuzz, Skout, Facebook Messenger and more…
Top 25 Free Android Chat Apps in 2017
The best ever Android chat apps of 2017 are all listed below. If you need APK files for these comment below we will add them too.
1. Chat Dating Meet Find Friends
The Chat Dating Meet Find Friends Android application has made this easy to find new friends and people nearby. And Waplog is the fast growing social network which has crossed millions of members from every country. So, the millions of people choice could not be incorrect. JUST download the official android application and join this great community.
2. Skout – Meet, Chat, Friend
Skout is the global network for meeting new people. This will connect with your instantly people nearby you or across the entire world. Using this app, you can discover new friends at a local bar or in Barcelona.
3. Go!Chat for Facebook
Using Go!Chat for Facebook Android app will allow you to see instantly who's online on Facebook. You can easily change interface appearance with 5 built-in different themes. Share photos, videos and voice notes through Facebook chat.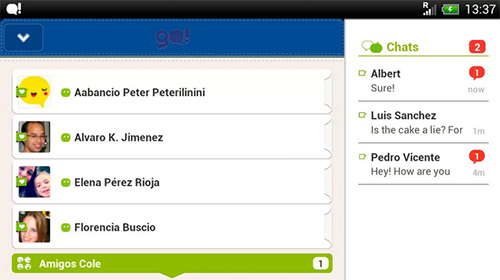 4. LOVOO Flirt, Chat, Single App
LOVOO Flirt, Chat, Single App Android app will connect you with new people. This app will allow you to chat and find dates & singles matches & have fun. Let's just get this love app radar and make party.
5. T-Mobile Video Chat by Qik
T-Mobile Video Chat by Qik Android application exclusively for T-Mobile Android devices. Using this app you can make video chats, video mail and video share for free.  Download the app today and start streaming live videos with friends and family around the world.
6. KakaoTalk: Free Calls & Text
KakaoTalk: FREE Calls & Text application has downloaded for more than 90 millions times world-wide. It's the world's best smartphone messenger that gives you the FREE calls and text service just within your Android phone. Make group calls in high-quality sound and schedule appointments in your chat room.
KakaoTalk: Free Calls & Text APK Download
7. Moco – Chat & Meet New People
Moco – Chat & Meet New People Android application will allow you to chat, meet with new people, play games and more… No matter who or what you're looking for, Moco is the #1 app to make new friends for chatting, flirting, dating, friendship or fun.
8. FunForMobile Ringtones & Chat
Make friends; Talk, Chat, Play; Download ringtone, wallpaper, and even made video by other members. Share photos, jokes, videos, and ringtones; Have fun at fun for mobile. Get this app.
9. Camfrog Video Chat Android App
Camfrog is a cross-platform worldwide video chat community with millions of active users in thousands of video chat rooms. Video chats with anyone in the Camfrog community whether they're on an iPhone, iPod Touch, iPad, Android, Mac or PC.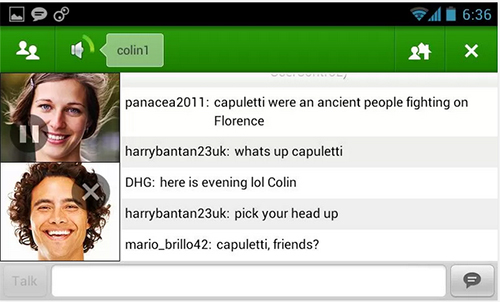 10. ChatON Android
Create a global social community with over 100 million friends who have ChatON through a Samsung account. ChatON supports 9 kinds of different platforms including Android, iOS, and web.
11. FriendCaster Chat
FriendCaster Chat is the latest and greatest Android chat app. That will allow us to keep up with our friends quickly and easily with our beautifully designed and easy to use interface. Eventually, you can also mark your "favorite" friends for even faster access.
12. Facebook Messenger
Text your friends for free. Get Facebook Messenger to instantly reach friends on their smartphones with Android OS. You can keep chatting, even while you're using other apps. Send voice messages when you have more to say. For FREE.
13. Nimbuzz Messenger
Nimbuzz Messenger combines the power of internet and smartphone messenger into one, and lets you make cheap international voice calls, send unlimited chat messages, share files on any mobile device across popular messengers. The best thing that I love is that you can download this application for your Android at NO COST.
Download Nimbuzz Messenger APK
14. MessageMe Messenger & Chat
Staying connected in a meaningful way makes us happy, and let us share our thoughts, emotions and stories is what makes these connections rich and real. In a world where everything is moving too fast, MessageMe Messenger Android app offers you a cost-free way to connect and express yourself instantaneously and with as much creativity as you can handle.
15. SayHi! – Chat, Meet, Dating
SayHi can help you find new people nearby! You're going to fall in love with. Using this app you can find out people nearby. By finding them with map, you can do video chat with them freely.
16. qeep – Free Chat & Messenger
Download qeep Android app to chat, meet people, and make new friends or even arrange your next date with. Click through profiles and photos, and chat with people from all over the world – or just next door.
17. Random chat for Korean
Random chat for Korean is a great way of meeting new friends. Using this app', you can pick another user at random and let you have a one-on-one chat with each other. You can chat entirely anonymous if you desire to.
18. ICQ Free Calls & Messages
ICQ Free Calls & Messages app let's you make FREE calls, text messages, photo and video sharing – one app with all the functions you need to keep in touch with friends.
19. GO SMS Pro FBChat plug-in
This is a free and convenient GO SMS Pro Facebook Chat plug-in especially for your Android smartphone. It can be integrated well with GO SMS Pro, making good use of the amazing facilities in GO SMS Pro, such as themes, chat/list style, searching, backup&restore, and etc.
20. GroupMe Android
GroupMe is the best way to chat with everyone you know. It's free, whether you're talking to a group of friends, or texting with one person. Best of all, it works on nearly every phone, with a smartphone app or via SMS.