Chat apps help you to get in touch with your family and friends online. However, besides the best social chatting messengers of 2018, you can now download free Android chat apps in 2021 for chatting with random people online. Chat apps have become so easy to install and talk to random people.
So, I decided to update my popular article on free Android chat apps of 2021 so you can download chat apps on your Android smartphones easily. Let me just show you the most popular and top Android chat apps to use on your Android smartphones. Chatting has become a tradition now and an easier way to get in touch with family, friends, and other people out there.
We decided to put together this list of Android chat apps for you to know the latest and best apps out there that you can use to get in touch with your close ones. A phone call or video call your close ones with the most popular Android chat apps like Nimbuzz, Skout, Facebook Messenger, and more.
Top 25 Free Android Chat Apps in 2021
The best Android chat apps of 2021 are all listed below, also comment on your favorite chat app that you like to use and hang out with online people. We will update our article with your chat apps as well.
SayHi! – Chat, Meet, Dating
SayHi can help you find new people nearby. You're going to fall in love with. Using this app you can find out people nearby. By finding them with a map, you can do video chat with them freely.
SayHi Chat is the app that is used to explore, find, and chat with the nearby people around you. You can easily find the perfect match, your soulmate, singles, and meet the new people around you.
It is a free dating and messaging app where you can connect with your favorite people and make a huge friend circle either knowns or unknowns. You can also find the perfect match and dream boy or a girl as a life partner through the SayHi app.
You can start up the SayHi app by signing up with Google or Facebook account and start chatting on the go. You might update your profile information to seek user consideration.
You can use the SayHi say Hello to your friends, start personal and group chats by using its amazing features. You might communicate by sending text, audio, and video messages using interactive filters, emoji, gifts, stickers, view profiles and also log in with Facebook and Twitter accounts.
JusTalk – free video calls and fun video chat
Looking for online chat apps is as easy as eating pie and that's why we have compiled the list of the best 25+ free Android chat apps in 2021 for you, and JusTalk is one of them. This app is completely free however, you might find in-app purchases depending on the services that the JusTalk Android app provides to its users. JusTalk Android app is for making free video calls to random people and voice chatting with online buddies worldwide. It is easy to use and simple, reliable, secure, and fun. Don't worry about your privacy is secured with JusTalk for Android 2021.
Skout – Meet, Chat, Friend
Skout is the global network for meeting new people. This will connect you instantly with nearby people or across the entire world. Using this app, you can discover new friends at a local bar or in Barcelona. SKout gives you the ability to connect with people no matter where you are. It is all about maintaining the enchanted of unexpected meetings that lead to discovering new people. It carries people together from all across the world to do fun things together. You can easily sent thousands of messages in a day. You can browse through people near you to make relations fast. It create a community that helps smartphone users to connect better with existing friends and new people nearby. People found it perfect for enabling new connections from friendship to spouse with nearby users.
Waplog – Chat Dating Meet Find Friends
Waplog is an extremely superlative dating app for android that enables you to meet people around you and have a date. Moreover, you can utilize this app to search for new relationships, even though numerous users in Waplog are finding for romance. Waplog app functions just like other identical dating apps such as Badoo and Skout. Moreover, you can create a profile by utilizing Google/ Facebook or your email, afterward, add all your details and as many photos as you require. You can also show your age, interests, relationships, etc.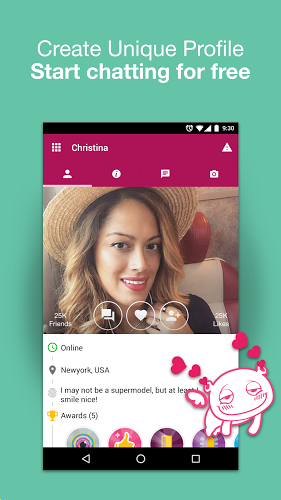 Once you create your profile on Waplog, you can start searching for fascinating people around you. The most significant aspect is to specify the age and gender that you are searching for. For example, you can select to see only men of a comparable age to yours.
Hi5 meet, chat, flirt
Hi5 is an app which helps you to make new friends it use your location to track your location and connect you with your fellow neighbors it offers you video calling, messaging and voice calls with groups or single friend, it helps you to find your partner and if things go well you guys catch up in real life too.
It is a typical social platform you can share pictures, videos, make groups and update status. You will share your details as much you want in order if another person takes interest in you, you guys connect to each other on first base and talk via its messaging service. You will found your old friends due to its location-based feature or make new friends and continue your friendship or more than it. This app also gives you the facility to play the game on it, a very popular game its name is "pets".
LOVOO Flirt, Chat, Single App
LOVOO is a dating and chatting app where you can meet new people and can interact with them.
The name of the app is inspired by "Love". The aim of the app is also similar. They say that love can
happen anywhere, in a café, a bus stand, and even an app. For this purpose, they have developed the app "Lovoo". The company which developed it also shares the same name and is based in Europe.
With the boom in social networking, people want to search and meet new people and to make new
friends online. The app serves this and it is liked by many people around the globe.
KakaoTalk: Free Calls & Text
KakaoTalk: FREE Calls & Text application has downloaded more than 90 million times worldwide. It's the world's best smartphone messenger that gives you FREE calls and text service just within your Android phone. Make group calls in high-quality sound and schedule appointments in your chat room.
KakaoTalk is an incredible platform where you can chat with your friends, share all kinds of media, and express your feelings by sending different emoticons. It is an all-in-one app because it allows you to send text messages, make audio/video calls, share multimedia (photos, videos, stickers, emoticons, GIFs, and voice notes) and share the location.
Explore the world to get in touch with different people around the globe and get views about the recent debate or news in the Open Chat. It is a free messenger that only connects with the world but also provides a platform to learn the Korean language and join specific chat rooms with similar interests where you can take an active part in the topic of discussion.
KakaoTalk: Free Calls & Text APK Download
Moco – Chat & Meet New People
Moco – Chat & Meet New People Android application will allow you to chat, meet with new people, play games, and more. No matter who or what you're looking for, Moco is the #1 app to make new friends for chatting, flirting, dating, friendship, or fun.
Camfrog Video Chat Android App
Camfrog is a cross-platform worldwide video chat community with millions of active users in thousands of video chat rooms. Video chats with anyone in the Camfrog community whether they're on an iPhone, iPod Touch, iPad, Android, Mac, or PC. Camfrog video chat Android app is completely free and the best Android free chat apps in 2018.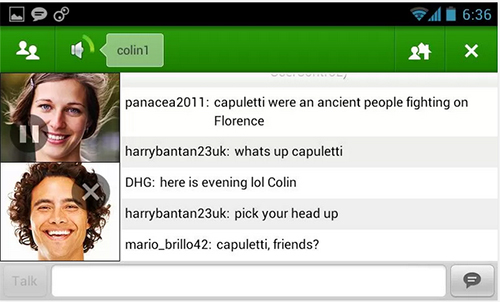 Nimbuzz Messenger
Nimbuzz Messenger combines the power of the internet and smartphone messenger into one, and lets you make cheap international voice calls, send unlimited chat messages, share files on any mobile device across popular messengers. The best thing that I love is that you can download this application for your Android at NO COST.
Download Nimbuzz Messenger APK
FunForMobile Ringtones & Chat
Make friends; Talk, Chat, Play; Download ringtone, wallpaper, and even made videos by other members. Share photos, jokes, videos, and ringtones; Have fun at fun for mobile.
Facebook Messenger
Messenger app is a free-of-cost android app that you can utilize to chat with your family and friends. It has scores of built-in functions that make your communication a real fun. From gifs, images, voice notes, stickers, and video messages you can send just about anything. The app automatically syncs with your contacts, hence there isn't any requirement to put IDs or contacts numbers manually. Be organized every time with an interactive approach to video chat, text, and group meetings.
qeep – Free Chat & Messenger
Download qeep Android app to chat, meet people, and make new friends or even arrange your next date with. Click through profiles and photos, and chat with people from all over the world – or just next door.
MeetMe: Chat & Meet New People
MeetMe app for android enables you to make contact with those individuals who are near to you hence you can chat with them, plan for meetings, and knows what is new. MeetMe app users can sign up through utilizing Facebook or directly thru this app. In either way, they will be capable of setting up their profiles, uploading pictures that they need to show, or adding additional information. In this way, other users on the MeetMe app can review your profile and decides to learn more about you.
Once you have done setting up your profile on MeetMe, you can start finding individuals who are near to you. You only need to look at their profiles or photos with the intention of deciding who you possibly fascinated about and who doesn't interested in you. In case you find an individual that you like, you only need to initiate a private chat.

Rchat – Talk to Strangers
Random chat for Korean is a great way of meeting new friends. Using this app', you can pick another user at random and let you have a one-on-one chat with each other. You can chat entirely anonymously if you desire to.
ICQ Free Calls & Messages
ICQ Free Calls & Messages app lets you make FREE calls, text messages, photo and video sharing – one app with all the functions you need to keep in touch with friends.
GroupMe Android
GroupMe is the best way to chat with everyone you know. It's free, whether you're talking to a group of friends, or texting with one person. Best of all, it works on nearly every phone, with a smartphone app or via SMS.
GroupMe is an instant messaging app that focuses on providing a better experience of group conversations.
It is founded and owned by Microsoft and already has 10+ Million installs on the Google Play Store.
The app can be a good alternative to WhatsApp if your main priority is group texting and you enjoy having fun emojis.
Swoo – Live Video
With a clean interface to Material Design, Swoo – Live Video operations are simple. The user puts the camera in motion, which gives the user to broadcast and any user that follows can see what retransmits. 
While the user does it, he can also comment and send hearts, in addition to recommending other users and have more options to go out in the main feed of the application, showing the broadcasts of greater interest, being able to see repetitions in case the user has lost something of followers. Without a doubt, all a success.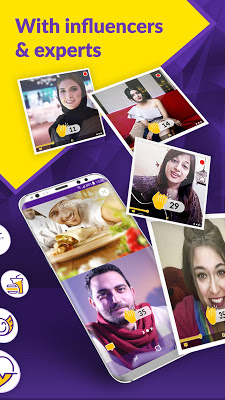 Tantan – Chat, Date and Make New Friends
Tantan app for android is a famous Chinese dating platform specifically created to search out and interact with people around the world. The app is particularly based upon geo-location that provides matched-up Tantan profiles through live group chatting using video, voice, and text enabling individuals to look for their ideal match and meet them up in real life.
Tantan app functions thru a location-based service structure and matches you with an individual that has been to a similar location you have been to. This app drives the match specifically based upon individual's common tags: same interests and hobbies along with visiting similar places.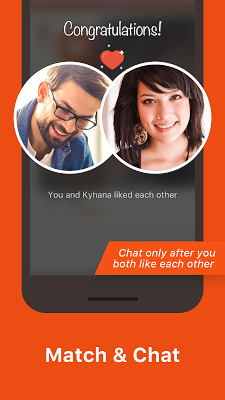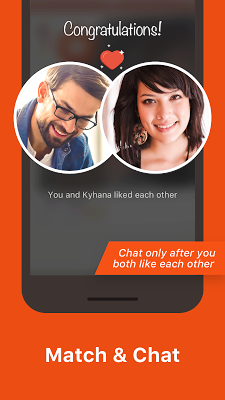 SPARK – Live random video chat & Meet new people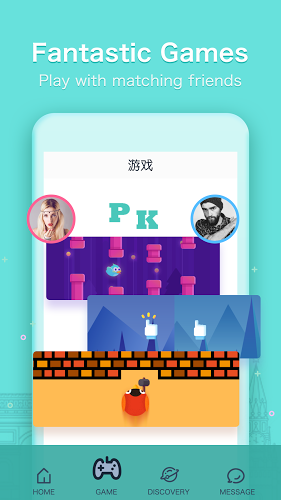 MoChat(Clone App)–Clone Multi Parallel Accounts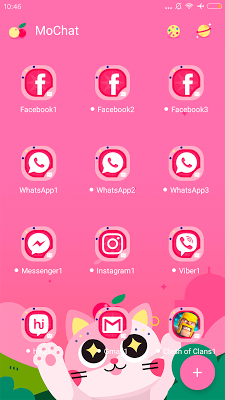 Jaumo Flirt Chat & Dating
JAUMO Dating is an intuitive dating app for all singles and unmarried people who are thinking of a perfect match. It is the right platform where one can find true love and start a serious relationship by connecting with each other. A secure place for those who worry about privacy and scammers as you can anonymously communicate with others.
Focused to discover the soulmate if you want to mingle, proceed long chats, check the level of comfort, and build a long-term relationship. An actual world of genuine people, making reliable connections, and date your crush to capture memorable moments.