If you love traveling, then you should read this article because we have a surprise for you. We have come up with the exploration of the best speedometer GPS apps for Android users.
Do you ever think that smartphones have lots of amazing apps? And you can explore yourself by using these apps. It is true that sometimes we are not aware of how much potential we have got and sometimes, we are unaware of the opportunities we have around us. Likewise, sometimes, we are aware of all that but we are unable to find the right path to discover anything. And in this regard, you should read and learn to discover yourself in a true sense.
In this competitive era, you must know about the utilization of inventions, because technology is in your pocket. And you can learn from anywhere to be aware of anything.
Like, if you need to measure speed, you don't need to buy any device for it. You just need to download one of the speedometer GPS apps from the Google Play Store on your smartphone, and simply use it well to measure the speed of your own one or of some vehicle.
GPS Speedometer can perform the number of tasks such as it can track speed, average speed, distance, trip time duration, and maximum speed.
10+ Best Speedometer GPS apps for Android
Ulysse Speedometer app
Ulysse Speedometer App is one of the best apps which is used for safe driving. The app contains multiple features of measuring speed. Besides, this app has a feature of a music player (Spotify, Pandora, etc.). It contains navigations as well. When you open the app, the time, date, battery, and speed will appear on your main screen.
It is also one of the best speedometer GPS apps with a bunch of safe driving tools, and you can avail it by using this single application. The other features include the app notification, which notifies you when you exceed the speed limit after driving. Moreover, you can check the speed, distance, periods, time, and much more.
Download | Ulysse Speedometer app for PC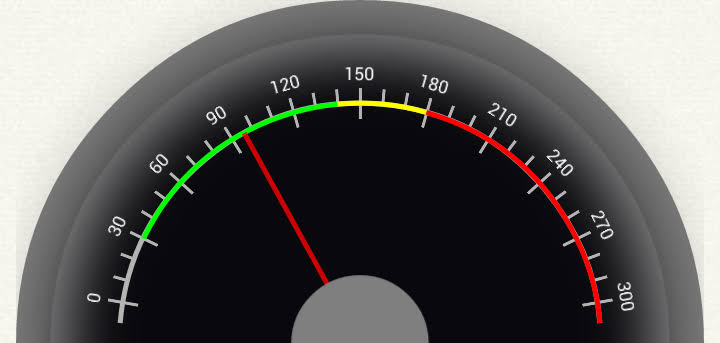 DigiHUD Speedometer
It is another Speedometer app that contains lots of cool features. It is best for Android and iOS users as well. This application is similar to the above app. Additionally, it can work in a background mode, so that you can check your emails, GPS app, and others without interrupting the work of this app.
The app has also a feature of notifies you about exceeding speed as well. The app helps you to know about the drive's particulars, such as average speed, distance and time. So, what are you waiting for?
Download | DigiHUD Speedometer – GPS Apps for PC
SpeedView GPS Speedometer by Legacy Edition
It is one of the most popular apps that gives you more accurate speed results by using your GPS. The app is for both Android and iOS users. It is similar to the above apps which have a speed limit and the notification of excessive speed.
This app has also a background mode which shows compass. SpeedView GPS Speedometer shows the history of your speed and distance. There is the number of tutorials and information guide that you can get it from google search.
Download | SpeedView GPS Speedometer – Apps for PC
Speedometer GPS
Speedometer GPS app has a great feature of two-mode so that the app can be used for bikes and cars as well. The app shows measurements such as the speed at all levels (average, maximum), time, distance, duration, start time, and altitude as well. You can save them as a record after driving any of the vehicles such as bike, car, cycle, etc.
Download | Speedometer GPS for PC
GPS Speedometer, HUD ADS Free
This is one of the best speedometer GPS apps which contains amazing themes such as sports car designs. The app has a similar bunch of measurements as all the above applications have. So, you can enjoy all the features of this app. One of the best things is that the app doesn't contain advertisements.
Features:
Speedometer GPS option for Car and Bicycle option.
Speed Unit: Change between MPH, KMH or KTS
Average Speed, Time Duration, Altitude, and Maximum Speed.
Save traveled History.
Different Speedometer Dials to choose.
Weather information with Visibility, Wind Speed and Direction.
TRACK ON/OFF Button in the middle of Dial.
Speedometer
The speedometer is one of the simplest apps with the black and white screen which shows only speed. The app contains the units of measurements such as mph, km/h, and knots. So, if you need a simple app without extra features this one's for you.
Download | Speedometer APK for PC
SPEEDOMETER
Speedometer app is a no-nonsense Digital Speedometer. Supports four different velocity units i.e., km/h, mph, knots and meter/second. Like other speedometer apps above you will be able to see the speed of your vehicle while driving. It does not require any unnecessary permissions to work.
HUD Widgets — Driving widgets with HUD mode
The app focuses mostly on HUD widgets, which is full of useful widgets with information on them. There are such widgets as a speedometer (obviously), distance, clock, weather, eco-driving, etc. They can be shown in different styles, including retro ones, such as Cadillac. HUD mode requires at least a little bit of darkness – it can be used when it's dark outside or when it's raining. In order to use it, just put your phone in the horizontal face-up position and that's basically it. The app also counts your fuel consumption and your driving score (how good & safe your driving skills are).
Drag Racer Car Performance
The app is for drag racers, mostly. It shows your speed along with a graph to show your acceleration pattern. It requires a GPS connection and its permission to use it properly. The app contains feature including speed measurements between miles and kilometers.
Download | Drag Racer Car Performance for PC
GPS speedometer – Distance Maker
The app is easy to use to measure the speed and distance traveled. This one is also for both Android and iOS users. The app shows distance, speed and time on the screen. Besides, you can set the speed limits and alarms if you cross that limit, it will notify you about the exceeding speed. The app has the simplest user interface. More than that, you can check your history records. It has a background mode. It available in a premium version for free or watch online video ads every time you want to use this feature on the free version.
GPS Speedometer and Odometer
GPS Speedometer and Odometer app help you to measure distance traveled by bike, car, and display the speed on your Android device screen. It is the best GPS speedometer app for speed measurement of the vehicle. The app has multiple features including digital awesome themes that you would love it. Besides, it provides you all speed formats, fast-tracking and much more. The user interface is simple and easy to use. The other features include fewer advertisements with the fastest digital meter app.