(Last Updated On: August 10, 2013)
Pinterest Verify is WordPress plugin which easily verifies your WordPress blog for your Pinterest profile. Now you don't need to upload the Pinterest file to your cPanel account which we usually do, after all Pinterest verify plugin will verify your Pinterest profile directly from your WordPress blog dashboard by inserting a meta tag on your front page (no coding required).
What needed to Verify WordPress blog on Pinterest?
All you need to do is to install and activate this plugin in your blog. Now, go to  Settings → Pinterest Verify and do the following two steps:
1. Simply, add the verification code in the input field as I did.
2. Hit the button Save Changes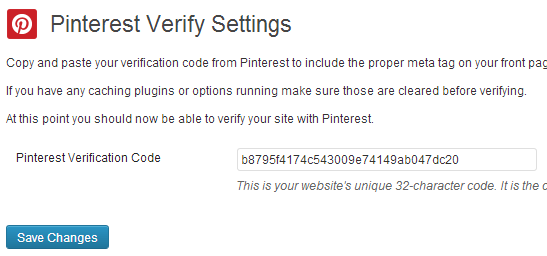 Now, if you right and view the page source you will surely see your verification code in a meta tag.

It simply outputs the verification meta tag for Pinterest to recognize your website as instructed at http://business.pinterest.com/verify/. Now pinners will see the verification check-mark and grant you access to Pinterest's free Analytics.