Nowadays, it has become impossible to keep Smartphones under the category of cellular phones due to their level of extreme productivity. Due to this factor, especially if you are using Smartphone for several purposes, such as storing your favourite music and movies, installing hundreds of applications, etc, 4-inched or 5-inched screen of your device may seem insufficient. Then, what we can do is to connect your Smartphone with your computer, which would then make the managing process simple; but you need an effective tool for doing so – MoboRobo!
Yes, you heard us right. MoboRobo is perhaps the best tool you can get to manage your iOS or Android Smartphone or Tablet PC. In review of MoboRobo, we will cover each prominent aspect of this Windows-based tool, and we hope it will help all our readers to have a clear view on this tool and its significance. Apart from normal users, the community to take advantage of it in an extreme level is of Smartphone vendors. So, before we check out different sections of this free tool, we would tell you when Moborobo would be helpful to a Smartphone vendor.
When Can You use MoboRobo?
Your customer may ask you to install a number of Applications in his Android Smartphone before buying that device. In such a situation, to install many apps simultaneously in the device, you can make use of MoboRobo. You can do this even if that Smartphone lacks access to Google Play Store. MoboRobo has a special store for Android applications. From that store, we can install popular Android applications to your Smartphone or Tablet PC.
MoboRobo includes a feature to convert data, such as contacts, from your device to another. If your customer wants to copy his valuable information such as contacts, call logs, etc, MoboRobo will be just a few clicks away. We hope now you have understood situations when MoboRobo will be helpful to you. Then, we will check out different aspects of MoboRobo such as prominent features. In this review, we have used an Android Smartphone. Thus, results may vary when you move onto iOS-based devices.
First Use
Installing MoboRobo in your PC will be quite simple if you have a decent internet connection with sufficient hardware configuration. After downloading the installation file that weighs 22MB, you can install it. In seconds, you will be able to see a window like shown below, asking you to connect your Smartphone.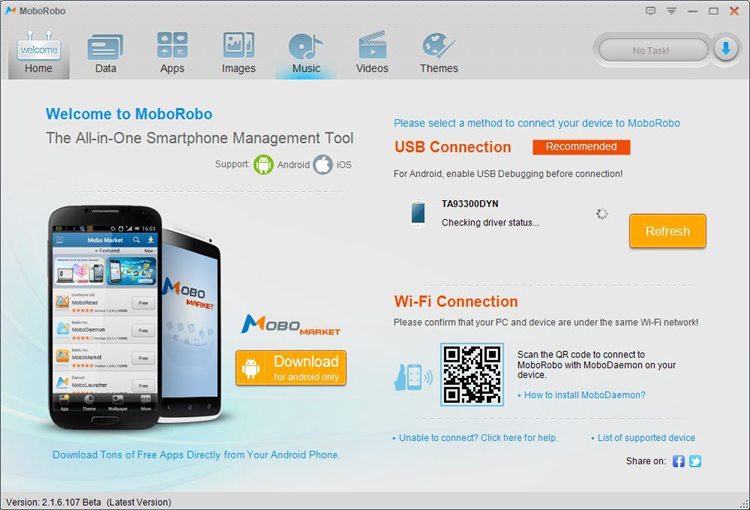 You have two choices when it comes to connect your Smartphone. You can either use USB Cable to establish one link with Smartphone or depend upon Wi-Fi networks. If you want to use all features of MoboRobo, you should select the latter option. In USB connection mode, you have to connect device to computer and enable USB Debugging. In a few seconds, you can see a window like shown below, which consists of several information about device such as storage space, live cast of device screen, number of Apps and messages, link to backup and restore and button to access file manager. Currently, MoboRobo has not detected the device model we used. Otherwise, it would have shown exact image of Smartphone rather than current model.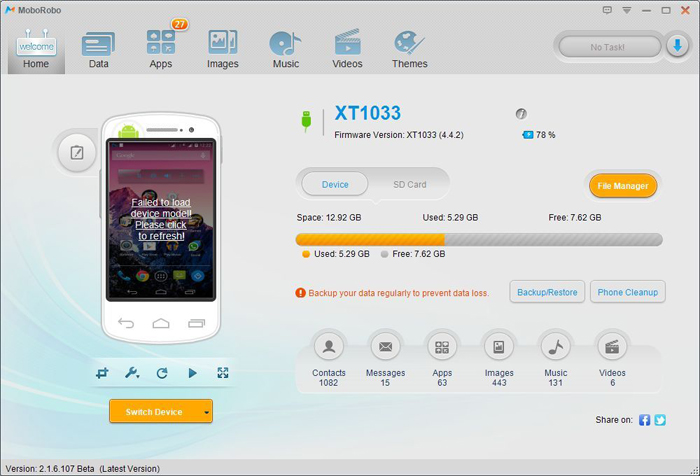 We hope you have a brief idea about installation, connecting device and first use of MoboRobo. Now, we shall check out eminent features of MoboRobo, which distinguishes this free tool from other Smartphone management tools for Android and iOS.
Features We Loved
Application Management
Probably, support for managing applications is what makes MoboRobo unique in terms of productivity. Through that, you can manage system and non-system application that are installed in the Smartphone or Tablet PC. Particularly, it has a feature to transfer applications from phone memory to SD card. We hope this feature makes enough sense, if your device does not have good internal storage. Likewise, if you do not have a good internet connection in device, you can download the APK file using your computer and install that application in device later using MoboRobo. Also, you can depend upon that mentioned application store to install applications in device. Indeed, this section is quite useful.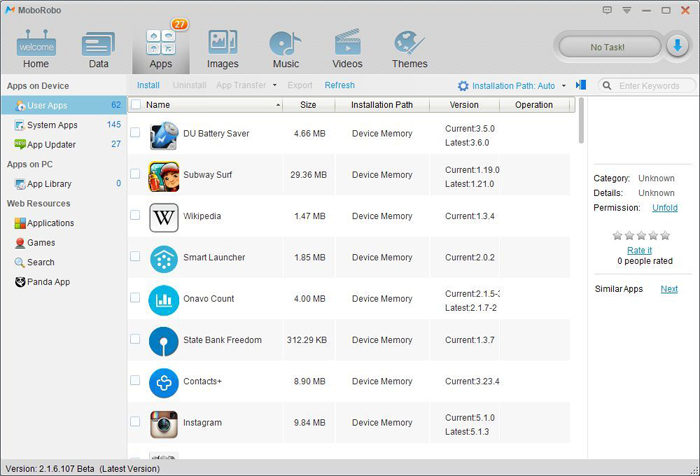 Data Management – Contacts, Messages, Call Logs
Another section of MoboRobo is dedicated for management of data such as call logs, SMS messages, and eminently contacts. Obviously, when it comes to managing contacts, bigger computer screen will make enough sense, because you can edit, delete, or add contacts quite easily. Similarly, you can manage SMS messages from your computer. If you receive one message while device is connected, you can see a pop-up window, and you can reply to that from PC itself. In addition, it offers an option to import and export contacts as well.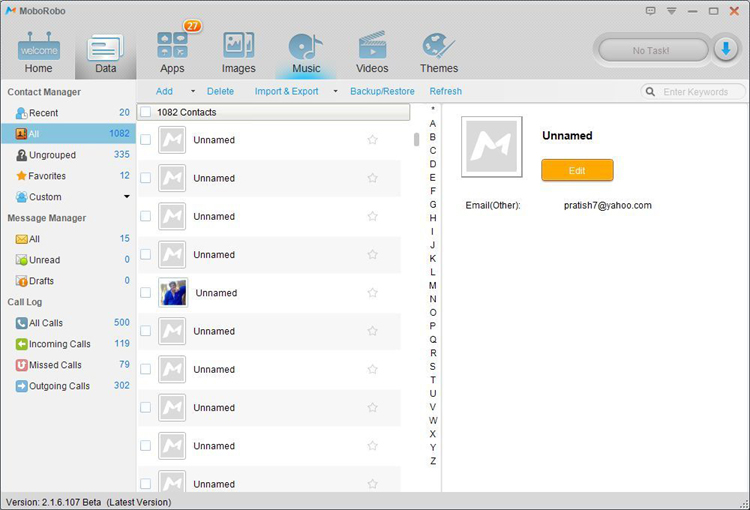 Media Manager & File Manager
Using the media manager section of MoboRobo, you can add or remove media files such as images, videos and music in a matter of seconds. Also, for each these categories, MoboRobo offers a special platform. For instance, you would be able to download stunning wallpapers from 'Wallpaper Center' whereas you can grab superb ringtones from the dedicated section called 'PandaApp Ringtone'.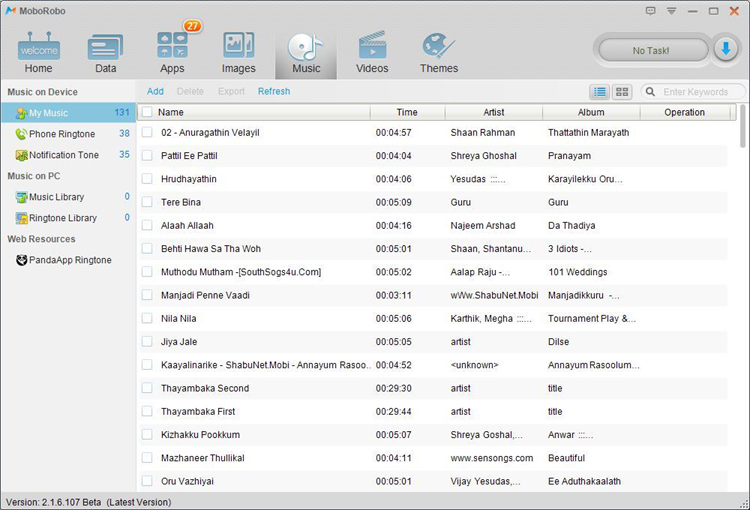 Plus, in order to explore other types of files in device memory, this tool offers a file manager. You can access this file manager right from home screen of MoboRobo. Of course, it will be very helpful, as the file manager is quick.
Rest of Stuff & Verdict
Apart from those prominent features, it has a backup and restore system, using which you can protect sensitive sort of information such as contacts, messages, call logs etc. We hope this feature will be useful for all those who keep a lot of important information in Smartphone.
In light of all these aspects, we can say that MoboRobo is a must-use tool if you want to manage your Smartphone or Tablet PC without glitches. Yet, we are eager to hear from you. Do let us know about your opinion about MoboRobo and its features through comments.