VPN is one of the best ways to protect your privacy and security when browsing the internet. Why you should use VPN because when you use the internet at your home or using any public WiFi hotspot while traveling, you can lose your personal information from your Android device because there are many hacking tools available on the internet that people can use to get information from your Android smartphone/tablet. So, never browse the internet while traveling except when you do have a good VPN Android app installed on your device.
Read more: Top VPN Android Apps
We use VPN Android apps when we want to browse internet anonymously or sometimes we take advantage of using VPN if something is blocked in our country side or in a specific region. VPN Android apps help you to unblock websites so easily if any website is blocked in your region you can use your Android device and install any of the following best VPN Android apps to get any blocked website back in your Android smartphone/tablet. In this article, you will find the best VPN Android apps to browse internet anonymously.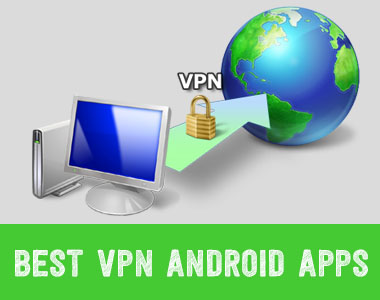 Best VPN Android Apps
Hola Free VPN
Hola Free VPN allows you to access previously blocked websites, apps, and content. It helps you to speed up your WiFi connection & keep your activities safe, secure and private. With Hola Free VPN you can enjoy unlimited Free VPN. This app allows you to unblock applications and websites from all around the world, mask your IP address to browse the web privately & anonymously and the best part is 100% Free. You can switch countries with ease.
Hola Free VPN for Android | Hola Premium VPN Proxy for Android
Hotspot Shield VPN Proxy, WiFi
Hotspot Shield VPN Android app offers free WiFi security, internet & online privacy, you can access blocked content & apps such as Facebook, BBC, Netflix, Hulu, YouTube, and Skype. With Hotspot Shield VPN Proxy, WiFi Android app you can access media, video and messaging apps from around the world even those which are blocked in your region or country. You can unblock social networks, keep your mobile activities safe & private.
Download Hotspot Shield VPN for Android | Hotspot Shield VPN Latest Version
Hideman VPN
Hideman VPN is an easy solution for privacy and protection via VPN. Simply, connect to VPN in one click with Hideman VPN widget. If you use hideman VPN you can easily hide your IP address and nobody will know where are you from. You will be able to protect your internet data with strong 256-bit encryption. So, enjoying surfing any website which blocked in your area without any limitations.
Download Hideman VPN for Android | Hideman Free VPN Latest Version (2)
SpeedVPN
SpeedVPN is the best free VPN client that helps you to unblock any website, app or content on your Android smartphone/tablet with one-click to connect, multi locations to select. Simply using SpeedVPN to unblock geographically restricted websites including Google, Facebook, Twitter, and YouTube. Switch between multi locations to connect including France, Canada and the United States with fast browsing speed.
SuperVPN
SuperVPN Free VPN Client is yet another VPN that helps you to protect privacy and keep you safe from 3rd party tracking. Just install and start unblocking geographically restricted websites like Facebook, Twitter, YouTube, Skype, etc. No registration and no Android rooting is required to take advantage of using this app.
Download SuperVPN for Android | SuperVPN Free VPN Client Latest Version
HideNinja VPN
Hideninja VPN for Android encrypts all in and out traffic on your device and gets you WiFi security, privacy protection and access to blocked websites & apps such as YouTube, Facebook, Netflix, BBC, Skype and Google.
Download HideNinja VPN for Android
Touch VPN
Touch VPN helps you to get you out of worry, the worry about unblocked websites, the worry about unprotected WiFi hotspots, and the worry about your privacy. Now, don't panic and install touch VPN in your Android smartphone/tablet to enjoy using surfing internet anonymously.
Download Touch VPN for Android
SecureLine VPN
SecureLine is a VPN client that protects you from internet thieves by using a virtual encryption shield 'tunnel'. With IPsec technology to secure your public/open WiFi connections. Once secured, your communications are impossible for any intruder to spy on.
Download SecureLine VPN Android
HideMyAss VPN
HideMyAss! Pro VPN Android app is one of the best proxy + VPN service provider. HideMyAss auth to protect you from hackers looking to steal your identity and data snoopers invading your privacy.
Download HideMyAss VPN for Android
Other informative resources: