FinchVPN is an amazing Android application that helps you to surf the internet freely, securely and anonymously. FinchVPN is a good app for those who are totally tired of government restrictions on some websites and want to browse blocked websites on their Android smartphone/tablet.
By the way, in every browser, whether chrome or Firefox or any other internet browser (find free internet browser Android apps) all save your browser cache and history stored on your computer temp folder to help you get back to you with 100% accurate results and repeating results if you are looking for.
But some people, hackers, attackers, corporations, and criminals all want your internet browsing data by simply giving you some malicious Android apps. to install in your Android device and get your personal information by injecting malicious codes in your Android smartphone tablet.
In order to protect your privacy, you must use FinchVPN Android app that helps you to browse internet freely, securely, and even anonymously. Yeah, that should awesome and it should, because nobody will try to reveal his/her own privacy at no cost.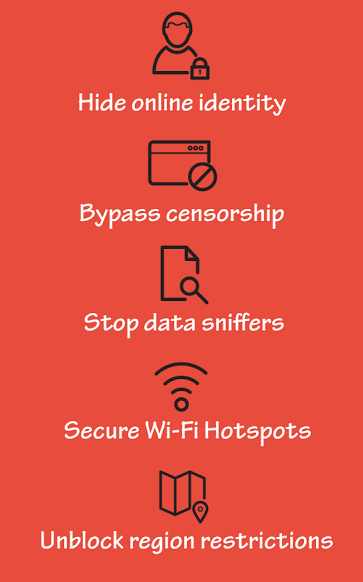 Features of FinchVPN Android app:
Following are the best features of FinchVPN Android app that you can't live without 😉 :
FinchVPN helps you to prevent hackers and data sniffers (like WhatsApp Sniffer) tap into your connection on an unsecured public WiFi Hotspot and steal your data
If something/any website is blocked in your region then you can use FinchVPN to unblock any website in your local area
FinchVPN encrypts all data you send or you receive while browsing such as passwords, e-mails and browsing activity
It improves your connection speed when you surf, shop or watch movie online in some countries
Prevent your ISP from inspecting, prioritizing and throttling the data sent to and from your device
With FinchVPN you can bypass schools, governments and workplaces restricted web content and unblock Facebook, YouTube, Skype, uTorrent, and US/UK radio
After launching FinchVPN on your Android smartphone/tablet, your online identity will be masked behind one of our anonymous IP addresses
With FinchVPN you can get a safe and encrypted connection between your device and the Internet anywhere anytime
FinchVPN works smoothly and creates a secure Internet connection where your Internet provider sees only encrypted data, and the final destination sees the only FinchVPN location and IP information.
Download FinchVPN for Android | Download FinchVPN Latest Version