(Last Updated On: February 17, 2018)
Downloading Instagram photos in 2018 have become so easy. Out there are online Instagram photos and videos downloaders which help you to download anything from Instagram just by URL. However, if you haven't got any way to download Instagram photos online just follow this article.
If you are looking to download Instagram photos in Android then you are reading the right article, because we have shared multiple ways to download Instagram photos in Android.
Download Instagram Photos in Android
Two ways to download Instagram photos in Android i.e., either use online Instagram photos downloader or Instagram downloader Android app. But, since we are talking about Android then I'll be using Android app obviously.
Inst Download – Video & Photo for Android
Inst Download Android app gives you full control over anyone Insta profile. It lets you download videos and photos from Insta profiles anonymously. You can download photos and videos by providing the image's or video's link in the app interface to download.
Inst Download automatically download video/image then you can save into your device. You can repost on your own Insta account also share Facebook, Twitter and other social networks.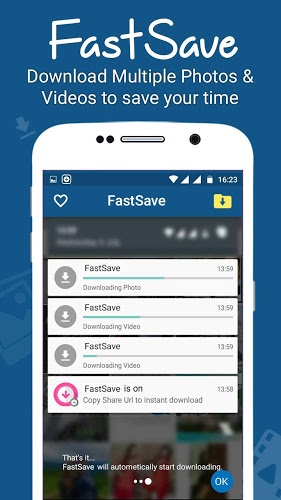 Features of Inst Download
Don't worry (no login required to download photos and videos from someone's Insta profile)
Easy 2 steps to download
Save from Instagram into Android device or repost on your social media accounts
Quickly download videos and download images from Instagrams' links
Many people think that people can't download their photos from Instagram but they don't know that Android developers have figured out solution to download photos from Instagram.
More Instagram Downloader Apps