The internet has made everyone so addictive especially after the invention of new social media sites such as Facebook, Twitter, Instagram, etc. Today, people take pictures of their food first before eating it, because they don't want to lag behind but share their activities on social media sites. See, the level of social media addiction? Similarly, I had published an article on how Facebook is addictive and how to overcome this. Just like that, some Instagram users want to download photos from Instagram because by default there is no download option in the app.
Fortunately, technology has made lives easier than ever and you have got a couple of ways to download Instagram photos. You can use online Instagram photos and videos downloaders that help you to download anything from Instagram just by URL.
In this article, we are going to give you a way to download Instagram photos in Android smartphone if you haven't got any way to download Insta photos online.
Download Instagram Photos in Android
If you are looking to download Insta photos in Android then you are reading the right article, because we have shared multiple ways to download Insta photos on this page. At the end of the page, you will find 5 alternative Android apps that help you to store photos on your smartphone from Insta social media site. However, there are 2 ways to store Instagram photos i.e., either use online Instagram photos downloader or Instagram downloader Android app. But, since we are talking about Android then I'll be using Android app obviously.
Inst Download – Video & Photo for Android
Inst Download Android app gives you full control over anyone Insta profile. It lets you download videos and photos from Insta profiles anonymously. You can download photos and videos by providing the image's or video's link in the app interface to download.
Inst Download automatically grabs video/image from the source link then it saves into the internal storage of your smartphone/tablet. You can repost on your own Insta account also share Facebook, Twitter, and other social networks.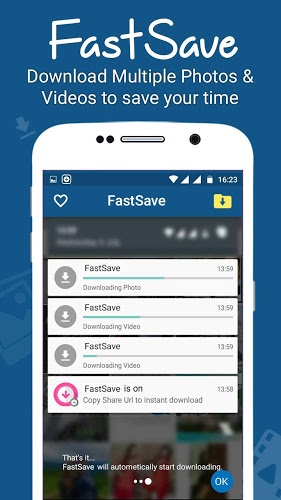 Features of Inst Download
Don't worry (no login required to download photos and videos from someone's Insta profile)
Easy 2 steps to download
Save from Instagram into Android device or repost on your social media accounts
Quickly download videos and download images from Instagrams' links
Many people think that people can't download their photos from Instagram but they don't know that Android developers have figured out the solution to download photos from Instagram.
More Instagram Downloader Apps