(Last Updated On: February 19, 2018)
So, welcome to yet another app of the day where I'm going to show you how you can download instagram public videos right on your Android smartphone/tablet for later watching. However for this purpose there are many Android apps available, and I'm going to show you how we can use Video Downloader for Instagram Android app which allows you to easily download videos from Instagram.
Start having more fun with Instagram now by download videos for offline streaming purpose. Download public videos and images from Instagram in few seconds easily with Video Downloader for Instagram (Android app)
How Video Downloader for Instagram works
On Instagram video post, click the three dots, "copy share url"
Get back to the app, long press in the text field and click "paste"
Click download, wait, and enjoy watching or sharing the videos anytime!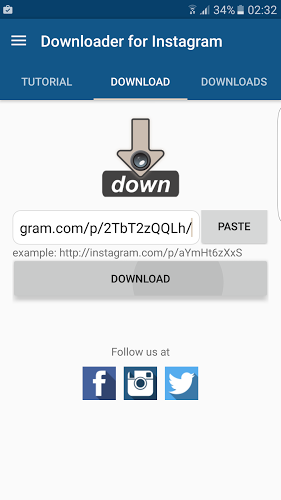 Downloaded videos and pictures can be shared instantly from our app to Facebook, twitter, BBM, YouTube, Whats app, Keek, Kik etc…
Disclaimer by app developer:
It can work only on public profiles
Re-uploading image and/or video is NOT encouraged (You must seek for the owner approval)
App is not affiliated with Instagram in anyway
Any unauthorized downloading or re-uploading of contents and/or violations of Intellectual property rights is the sole responsibility of the user
However, there are more Android apps that you can use to download stuff from Instagram but I liked this one because it is straight forward and fast.