(Last Updated On: January 5, 2014)
After rooting any Android device with its ROM, as we know that some ROM of Android have no full set of language support. Sometimes, it's hard to set the language you want in your smartphone due to  the different language. Or if the custom locale function in menu don't support your language, you can try the following best language switcher Android apps.
I hope you will like these Best Language Switchers Android Apps and please consider sharing this article on your favourites social media profiles other Android users can also take advantage.
Recommended Reading: Quick Fix: How to Change the Chinese Language in Android
Language Switchers Android Apps
Set Locale and Language
With set locale and language Android app you can easily switch to different languages that you want. As some ROM of Android have no full set of language, sometimes it is hard to set the language you want in your phone then you can try this app.
Get Set Locale and Language Android app
Language Enabler
Language Enabler Android app that especially built for Samsung devices who usually support most of the languages, but a lot of Telecoms careers hides many languages which are useless in their regions.
Locale and Language Setting
If your device have been root then your Android device needs Locale and Language setting app to get the permissions for additional languages automatically.
Language Switcher
Put the Language Switcher widget on your home screen and just touch it to switch languages.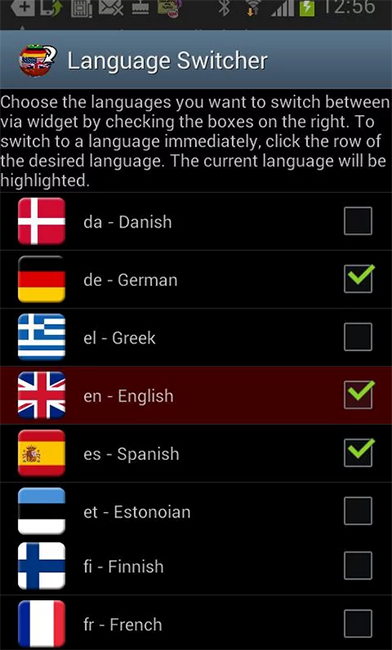 Set Language
If your device doesn't support the language (locale) that you want to use, you can set it with this application, and then other applications will work with the selected language (locale).