It wouldn't be an exaggeration, if someone would come up and say that football games are the best. That's just how the sport is. That's just how much people are passionate about the game, which translates, not only in the real world (in the field) but also to mobile football gaming, which users these days, are craving for. Regardless of an audience, that still despises football, even they are aware of the fan base, growing in numbers, year on year, for the sport. It's undeniable: Football is here to stay. Be it for the hard work of thousands of teams, hundreds of leagues, or more than ten thousand players, the sport is hugely worshipped.
The game, hence, swoops in all the attention. If you're a football fan, you'd know that the fever can never go down. And that's the reason why the famous sport of football is not only famous in the real world but also the virtual too!
Be it in the video games era, or today's era of mobile gaming (smartphones), the footy- themed games have always won the users hearts. And just like watching a live football game gets your adrenaline pumped, the mobile football games will have the same impact on you, in terms of user experience.
We had previously published like 50 Football games for Android in 2015/2016 which gain massive hit because people are so crazy when it comes to the Football game. That's why I decided to publish the most popular Android football games in 2019 and let's see the reaction of gamers.
For that purpose, we have picked out the top 15 Android Football Games, that we could come across, for our football fanatics. Games with enticing user experience, exhilarating graphics, and surreal vibes.
15 Best Android Football Games in 2019
FIFA Soccer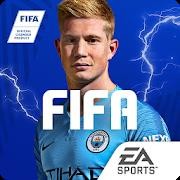 This franchise needs no introduction, or whatsoever. No doubt, FIFA Soccer is one of the most played Android football games today. With this game, you simply take command of your team and thrive them to football supremacy. FIFA soccer is one of the most heavily demanded football games. The game offers Android users ton of content, to play with. It will allow you to enjoy soccer, either single player, or challenge players, from around the globe. And the best part, as mentioned above, you can build your own dream team, from over 550 real teams. The surreal vibe kicks in here, as you may opt for renowned players, to be included in your dream team, for them to lead you to victory! Additionally, the game provides with a number of different leagues and tournament, for you to indulge yourself in, and thrive through the leaderboard. And don't forget, there's than AI trainer too! Must you enjoy all those PVP matches, and that's all for free, available on the PlayStore, with additional in-app purchases.
Click Here to Download | FIFA Mobile Soccer APK for PC
PES 2019: Pro Revolution Soccer
Pro Revolution Soccer: Another very enticing football game, that made it to our list. It is perhaps the best, if not the best, football game, ever created, for Android users. It is an embodiment of every user's childhood fantasy, to be lived out, through this game. The game allows users to play with legendary footballers, including Beckham, Maradona, Zico, Ronaldinho, and many more. Apart from the real-time players, the game also offers to choose from world-famous club teams, giving you the option to build a dream team, from over 10,000 actual players. Also, you can play this game, anytime, anywhere, with your friends and colleagues, via local leagues or local matches, where you can create an original tournament. Additionally, the game is pretty simple, in terms of the gameplay interface, just swipe, dodge, and alas, it's a goal! It's again, absolutely free, on the PlayStore, with additional in-app purchases.
Click Here to Download | PES PRO EVOLUTION SOCCER APK for PC
Dream League Soccer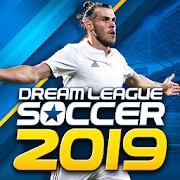 This game provides you the opportunity to recruit real FIFA Pro licensed superstars. The creativity of the game itself is what brought it on this very list of ours. You're not only confined to the team, but you also have to build your own stadium. The game itself provides you with 6 leagues, realistic animations, 60 frames per second dynamic gameplay, and many more features too along, enough for you to get addicted. Asides that, users also get tons of customizations, for their players, as well as their logos, and their kits. Then there's the added perk of getting exclusive soundtracks. The game's absolutely free on PlayStore, with additional in-app purchases and some annoying ads to top that.
Click Here to Download | Dream League Soccer APK for PC
Ultimate Football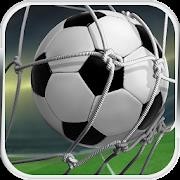 If you're here for simplicity, yet insane graphics, this pick right here is the go-to, when it comes to football games. It allows you to lead your dreams team, all the way to victory, by winning the prestigious FIFA World Cup. Controls are also easy, with smooth animations. It allows you to enjoy and get a good game, without getting annoyed by freakish controls. Simply pass and dribble around your opponent, and aim to shoot across the goal keeper. It's as simple as that. Also, the game renders 1000 plus players, with career, world cup, and friendly mode, for you to simply have the best, yet the most easy-going experience possible. Available for free, with in-app purchases and ads.
Click Here to Download | Ultimate Soccer – Football APK for PC
Real Football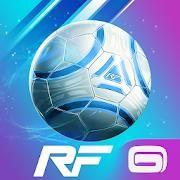 This one right here is a free football simulation game, where you are required to build your desired team, including all renowned footballers in the world. Enhance the players' ability, as you go along, through lottery, and matches. The matches may be played at a small scale, or at a larger scale. Additionally, you may always opt to challenge real contenders, from around the globe, who the nifty 'World Arena Mode.' Play and climb up the leaderboard. And for the best possible viewing experience, the offers multiple camera shots/ angles, for you to enjoy your stellar goals. Enjoy the game for free on the PlayStore, tagged with in-app purchases and ads.
Click Here to Download | Real Football APK for PC
Score! Hero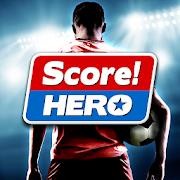 Score! Hero game is one of the unique picks, in our list. It has all the good features, yet different from the picks mentioned above, to make it a worthy enough choice. In this game, instead of controlling the entire team, you may control only one player. Instead of playing out an entire match, you may opt for key plays in a match. Which means, in some games, you may lack behind in score of goals, where you deliberately try to catch up. Or in others, you may just have to hit the winning goal, in the last possible minute. The main idea is: you always get to participate in moments. Either through assisting, or playing. In addition, the game also renders and organized series of levels, where you can earn 1 to 3 stars. For playing the game, you simply slide your fingers and trace the path of the ball. You may also add effects to the ball, in different shots or moves. It also incorporates over 600 challenging levels, with interesting events. It's available for download for free on the PlayStore, with additional in-app purchases, and toppled with ads.
Click Here to Download | Score! Hero APK for PC
World Football League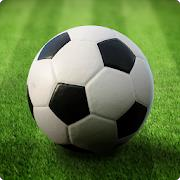 This is a 3D soccer game, where you play with all the players in your team, dribbling and passing the ball around, with thrilling goals and shots. The game includes around 60 national teams, 60 clubs, and a total of 2000 players to choose from. Then there's that practice mode, that simply lets you polish your skills throughout, and then play the actual stuff, at your absolute best. Aside from the Training mode, there are additional 3 different modes, with different features, for you to venture along. What's interesting is that you may be able to catch an image of the game, or the entire video of the match, to kick things up a notch. As the earlier picks, the game's available for download on the PlayStore, for free, with in-app purchases and ads.
Click Here to Download | World Soccer League APK for PC
Flick Shoot 2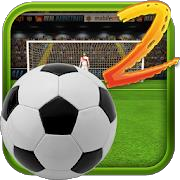 Another unique pick of ours. Flick Shoot 2 is a soccer game, that is simply based on playing out those thrilling free kicks. The game requires you to execute free kicks, using your fingers on-screen, like boots. The game also incorporates 6 different modes, including Challenge, Arcade, Time Attack, Not Miss, Dribbling, and of course, Practice. All the different modes feature vivid distinctions, that sets each mode apart. Additionally, the game can also be played in PVP mode. If you want to take things further, just play the online mode and challenge players across the globe. The game's available for download on the PlayStore, for free, with in-app purchases.
Click Here to Download | Flick Shoot 2 APK for PC
Top Eleven 2019 – Be a Football Manager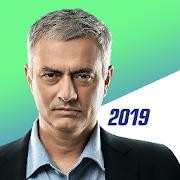 This pick is pretty much self-explanatory. As the name suggests, the game is for those who want to live out the dream of being a football Manager. In order to become a prominent football Manager, you need to build your club from scratch, performing all duties for your team, as required for a manager. These duties will include: conducting training sessions, formation set-ups, managing finances, and so much more. Plus, when you think you've established your club, you may challenge other football managers, to see how far you've come, against real competition. The game allows for an immersive experience, overall, with multiple matches daily, and compelling graphics, being absolutely free to download and install on the PlayStore.
Click Here to Download | Top Eleven – Be a Soccer Manager APK for PC
Football Strike – Multiplayer Soccer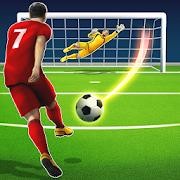 This game is for those who crave for multiplayer football games. As the name suggests, it's a real-time online multiplayer game, which happens only between the striker and the goal keeper. The game itself allows you to battle against your friends and colleagues in free kick face-offs, or make a name for yourself in the career mode. It also gives you the chance to compete against players, from all around the world, providing users with a number of online modes, with each one serving a different purpose. You may customize your player, even after selecting your team. The game is absolutely free on PlayStore, on a Freemium basis.
Click Here to Download | Football Strike – Multiplayer Soccer APK for PC
World Cup Penalty Shootout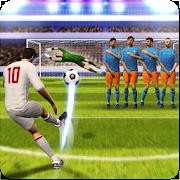 This is one of the most intense football games out there, with the main focus being on the Penalty shootouts. The game includes four stunning modes: Targets, Time Attack, Wall, and Shoot-out. You get to choose from twelve teams, so you have to make sure to pick the right one, and lead them to victory, to attain the Champion's Trophy.
There are added perks to buy nifty upgrades and power-ups for better gameplay. This one's also for free on the PlayStore, with in-app purchases.
Shoot Goal: Football Stars Soccer Games 2019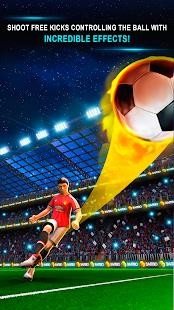 While the name of the game is a mouthful, it definitely delivers, on its end. It is essentially based on one of the most interesting pairs: Goalie vs the Striker. The game requires you build up your skills to score the winning goal, for your team. Since it's a PVP game, you may play across the globe, through online gameplay, with competitive players. Show the competition your skills, and shine victoriously. Apart from online matches, the game incorporates a number of interesting levels. All in all, it's a compelling game, with good animations and decent graphics, and being free is an added bonus. But those ads and in-app purchases are always there to bug us.
Soccer Star 2019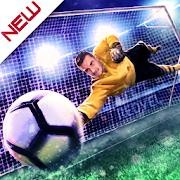 World Cup Legend: Translating to another enticing and exhilarating gameplay experience, this game is also one of the best football games out there. It allows you to not only become a football Manager but become a football inspiration, worldwide, playing out two important roles. The number of events/ matches and tournaments will keep you hooked with the game long enough. Controls are rather difficult, but not to worry, the training mode has got your covered. Graphics and visuals are also on point, giving the user a treat to play. All of this, and being free, is enough for us to include the game in our top 15.
Click Here to Download | Soccer Star Top Leagues APK for PC
Mobile Soccer League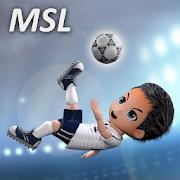 It's a 3D soccer game where you can choose from a number of leagues to participate in, which includes: Major League, Spanish League, England League, Italy League, and the likes. The game also renders recent championship cups and popular ones, for you to win. The game incorporates joystick like controls, on your Android smartphone screen, allowing for an immersive and easy-to-use experience. The 3D visuals and animations are an added bonus to the eye. Sometimes, a little innovation can provide for a wonderful game-play, and being free to install, is worth giving a shot anyways.
Mobile Kick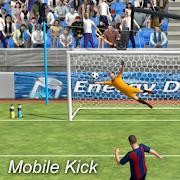 Talk about best of bother worlds. Taking both free kicks and penalties into the account, the game is worth trying. It is essentially poised on the concept of free kicks and penalties. The leagues included are Major League, Turkish League, French League, Brazilian League, and significant others. There are other modes to choose from, according to your liking and preference, with the chance to participate to win the popular and recent cups. So, head up to the PlayStore, and download the game for free, withstanding the less aggressive in-app purchases, and don't forget the ads.