The returning 404 errors on single posts come when you install something in your WordPress blog. This maybe the plugins and themes but if you are getting 404 returning errors on posts in your WordPress blog, I mean the users can still view the homepage of your blog clearly but can't open a single post. This usually happens when your .htaccess file accidentally deleted or something went wrong with the rewrite rules.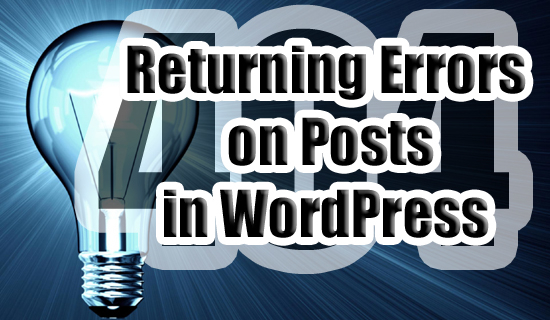 All you need to do is simply follow the three simple steps below to resolve that errors:
Fixing Returning 404 Errors on Posts in WordPress
By default WordPress uses weird web URLs which have question marks and lots of numbers in them, but still WordPress offers you to change the default permalink (URL) structure and create custom permalinks as you want them.
Recommended Reading: SEO Friendly Permalinks in WordPress
EITHER:
1. Either change the of .htaccess file to .htaccessold and run your blog once, if the problem is solved then you can go or if you find no improvement read the rest of paragraph.
Note: You can find .htaccess file in the directory where the WordPress is installed
OR:
2. Go to Settings > Permalinks
3. Click the button Save Changes which will automatically rewrite the rules in your blog's .htaccess file