In this short tutorial, I'm just going to teach you how to display custom popup box in WordPress. This will help you to grow your subscribers by displaying subscription form in the popup box, even you can easily promote things in the popup box using your WordPress blog. As I've shared how to promote your Facebook fanpage and Twitter profile in a lightweight popup window on your blog. Just like that you promote anything within the custom popup window by using this tutorial. Hope that sounds crazy but you will surely give it try near in future.
WP Super Popup WordPress plugin easily create/manage modal and unblockable popups in your WordPress blog. Let me just tell you that it's proved modal and graphically attractive popup that have an high conversion rate. Creates unblockable, dynamic and fully configurable popups for your blog. It works also with WP Super Cache or W3 Total Cache.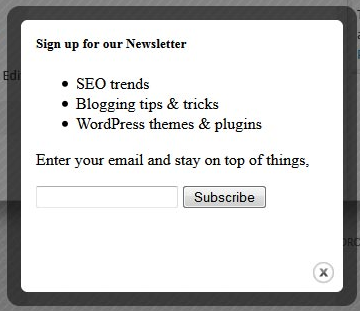 Key Features:
The popup content can be retrieved from an external URL or directly edited inline thanks to a WYSIWYG editor. The most powerful features of this plugin:
Real WYSIWYG: The popup content is not affected by the stylesheets of your blog: what you edit is EXACTLY what you will see inside the popup
Live preview: you can directly test any update before saving the configuration options
Full compatibility with any caching plugin: the cookies are handled on the client side so the plugin is not affected by issues related to a caching system like WP Super Cache or W3 Total Cache
Using this plugin is so easy, all you need to do is to install and activate this plugin and go to the Super Popup under Settings tab in order to edit and enable your popups. Everything is customizable, the popup box, how often should it be displayed and more options are available for WordPress users.