Facebook one of the biggest social network around the web which allows you to chat online with your friends and family members for free. It gives you a pretty good chance to create your free fan pages for your company, brand, etc on Facebook. Which will not only increase the popularity of your company, brand, but also convert your visitors in customers.
I believe that convincing people to like your Facebook fan page is somewhat hard however if you have owned a website on WordPress then you'll be able to increase your fan page likers easily. It's what I call it a tricky way to increase your fan page likers but don't worry you will surely get likers on daily basis.
Facebook Page Promoter Lightbox
Facebook page promoter lightbox is a WordPress plugin which adds a popup window on your blog homepage, posts, pages, or on all. It will allow your daily visitors to like your Facebook page for daily updates regarding your website. With this plugin you can display a pre-configured Facebook fan page like box in popup window.
For example: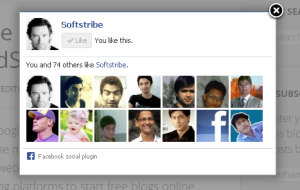 Key Features:
Display Facebook lightbox onload with or without a delay
You can limit lightbox to be appeared once every x days per individual visitors
No api key needed
How it Works?
Follow the steps below to add Facebook like box in a popup window on your WordPress blog:
Install Facebook Page Promoter Lightbox and activate the plugin
Navigate to Arevico Settings > Facebook Lightbox from the left sidebar in your WordPress admin panel
Add your Page ID (which you will see in your Facebook fan page URL)

Note: If you didn't find your Facebook page ID in your fan page URL, please follow this:
1. Go to: https://graph.facebook.com/Softstribe (Please kindly replace the name "Softstribe" from the URL and add your fan page name then hit enter)
2. On this page you will see your Facebook page information including ID, name of the page, description, etc.
Now, on the plugin settings page you have to decide where you want to display Facebook like box in popup window on the homepage, posts/page, or you want to display on all the pages. Specify that after how many days will the Facebook popup box will appear again to the same returning visitors.
See the screenshot of plugin's settings page: