WordPress has made our lives so easier and still doing continuously by providing great features day by day. This time you can easily boost your productivity by having a To-List in your WordPress dashboard. This will not only get your work done on time but also give you a great chance get you work quicker, faster and smarter as you desire. In this article, I'll show you that how to create a to-do list in WordPress.
Cleverness To-Do List
At first place let me say a thousand thanks to the developer of Cleverness To-Do List WordPress plugin which creates a custom post types in your WordPress blog dashboard. So, you can easily create, manage, to-do lists. Just install this plugin in your blogs and read the rest of article.
Eventually, you have many options in cleverness to-do list plugin settings page from which you can configure to create private to-do lists for each user, to have all users share a to-do list, or to have a master list with individual completion of items. The shared to-do list has a variety of settings available. There are also settings to show deadline and progress fields. Category support is included as well as front-end administration.
To manage your to do lists a dashboard widget is made available.

A sidebar widget is available as well as shortcode to display the to-do list items on front-end of the site. However, there are two shortcodes available for front-end administration of the list and management of categories is restricted to the back-end.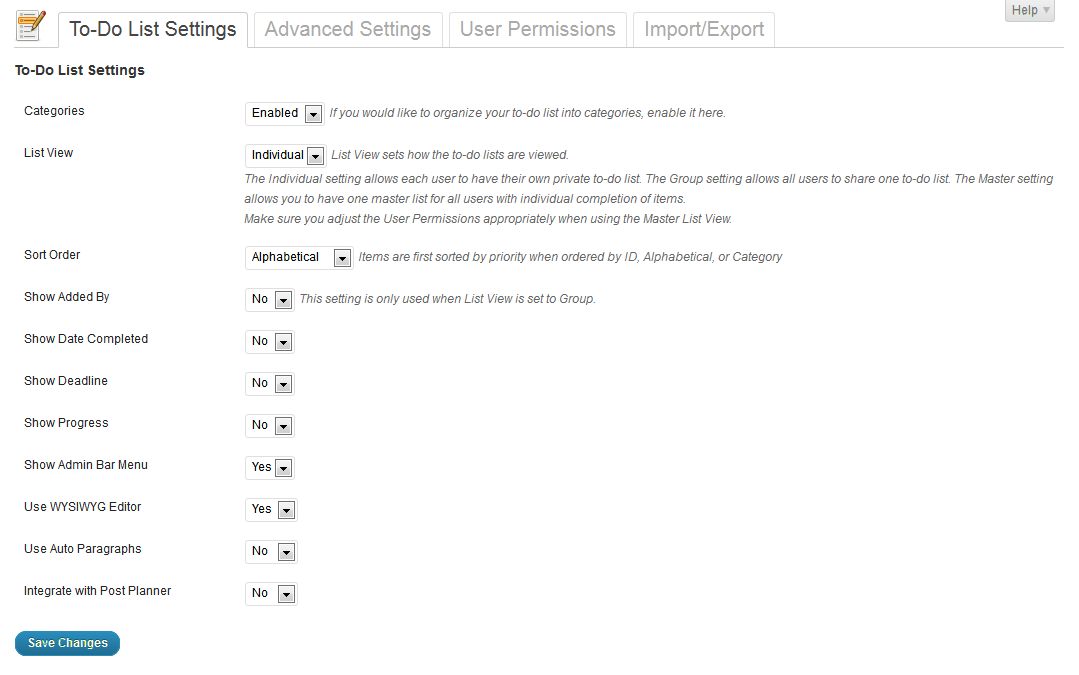 There are three types of To-Do list views available:
Individual – Each user can create and manage their own to-do list.
Group – All users can work together on a single to do list.
Master – Allows you to have one master list for all users where each user has their own individual completions.
You can easily setup the permissions for the user compatibility in the User Permissions tab in the plugin settings page so easily.