(Last Updated On: July 29, 2013)
Hope you will be thinking that this article is not good enough and not useful so. But for WordPress developers, of course not only for WordPress developers, for every developer who has a WordPress blog and who wanted to list down his Github Gists in WordPress blog sidebar then this article will help him a lot.
Better Github Gists Widget is WordPress plugin which adds a highly configurable GitHub Gists widget in your WP blog. Let me just tell you what actually this plugin does. On installing and activating this plugin, you will be given a widget in the Appearance > Widgets that can be dragged and dropped in your blog sidebars to display the list of GitHub Gists in WordPress blog's sidebar. The widget can be customized so easily retrieves your public gists and displays them in an ordered list. All you need to do in order to display your GitHub Gists is to add your GitHub username in the widget. For more details see the following screenshot.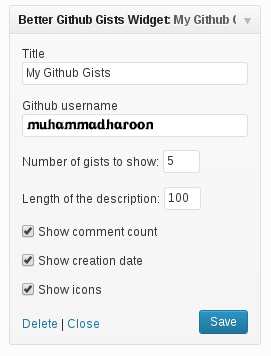 Features:
Item count
Length of description
Show comment count
Show creation date
Show mimetype icons