Fiverr is an awesome micro-jobs marketplace where you can get high quality work even sell your talent beginning at a cost of $5. If you want to sell you talent on Fiverr you can earn more than $500 a month depending on your services that you give to your customers. Anyways, I'm going to show you how to embed your Fiverr gigs in WordPress sidebar widget area which will boost your sales on Fiverr if you have plenty of visitors daily on your website.
Note: If you want to make money with your Web Programming experience, you can eventually join Softstribe Micro Jobs marketplace which is built for web developers.
Un-Official Fiverr WordPress Plugin enables you to embed Fiverr gigs in the sidebar widget area, theme function, even using a shortcode on your WordPress blog.
Setting Up Fiverr Sidebar Widget
It very easy to setup Fiverr widget in your WP blog sidebar. Follow the steps below if you want one:
1. Install this plugin in your blog
2. Just navigate to Appearance > Widgets
3. Now, drag and drop the widget in the sidebar "Fiverr Account Widget"
4. Change the user name and configure the rest of widget settings as you want them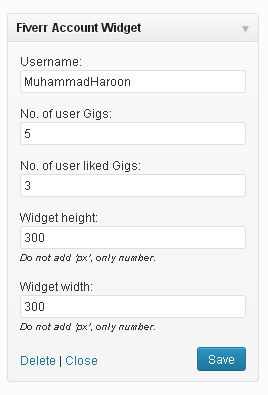 See the final result here: