Not every single website need a live chat support system, but you may need these best live chat support WordPress plugins when you are going to sell a product or service on your website, so that your website visitors will be able to contact and get in touch with you and ask for more details in-depth for a specific product they are interested.
There maybe times in which a customer of yours may need immediate assistance regarding one of your products or services, and to make this happen the only way to get in touch with the website team is live chat support. I have enough experience with internet marketing and I just found that having a live chat support on a website increases the position in online world and boost your products and services sales. So, I've collected a list of 20 best live chat support WordPress plugins, that I hope you will like.
Best Live Chat Support WordPress Plugins
1. ClickDesk Live Support Chat
ClickDesk is a value combo of best WordPress live chat, help desk, voice chat and social tool-bar for any WordPress website. If you want a live chat box right on your WP website, I recommend you to install and activate this plugin in your website. Using this pretty good plugin can help you manage your emails and offline chats that took place on your website.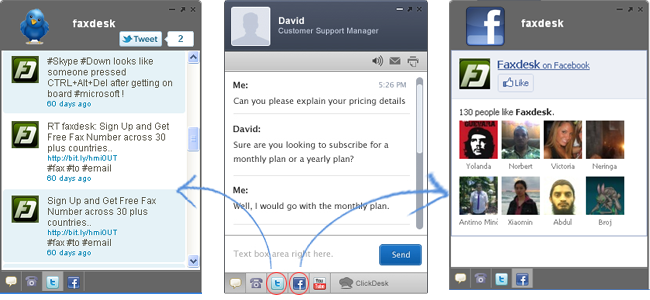 2. LiveChat WordPress Plugin
LiveChat is a fast and intuitive plugin for WordPress that enable you to increase the conversion rate of your sales by engaging with your representatives contact customers. Using this simple plugin can help your online visitors to find what they need before they leave your site.
3. FlexyTalk – Live Chat
Start chatting to your site's visitors and Facebook fans from any device including mobile phone. You will need an account with FlexyTalk before you get started with unlimited chats and full features just within trial version.
4. Live Chat – Casengo
Live Chat Casengo is actually a free WordPress plugin which adds a free chat box in your WordPress website. Quick tutorial about how to use this plugin.
5. Comm100 Live Chat
Comm100 Live Chat is WordPress chat plugin enables you to have a 360 degree view of your WordPress site visitors. It allows you to add a live chat button on your every WordPress website pages with just a few simple steps. I hope that it will boost both your sales and customer satisfaction.
6. Banckle Chat
Through Banckle chat WP plugin, you can effectively communicate and conduct live chat sessions with your WordPress website visitors and engage them instantly from WordPress website. Get collaborative and social with your customers and make sure that they get the best customer service through Banckle Chat for WordPress plugin.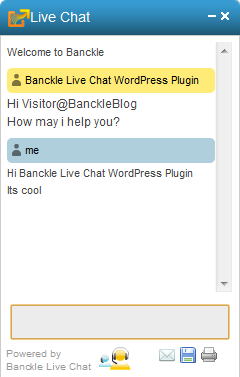 7. Acobot Live Chat & Contact Form
Acobot plugin puts the contact form on users' finger tips by displaying a contact widget on every webpage of your WordPress. Contacting you gets so simple and easy that you will get more sales inquiries. You might have heard of live chat is the most powerful conversion rate optimization tool. With live chat software, you can chat with website visitors, answer their questions and help them buy.
8. WP Live Chat Support
WP Live Chat Support is perfect chat plugin for small businesses. There is no third-party connections or subscriptions required. This is a fully functional live chat plugin and can increase your conversion rates by communicating directly with your visitors when they're ready to do so.
9. OggChat Live Chat
OggChat live chat helps you to increase sales and improve service by incorporating a OggChat live chat widget in your WordPress blog.
10. Live Chat Software by HelpOnClick
Live Chat Software by HelpOnClick adds a live chat widget on your WordPress blog to allow real-time chat with your blog visitors.
11. HelpDen Free Live Support Chat
HelpDen is a simple and scalable live support system that can be added to your website in minutes. Add Live Support to your website with a few simple clicks.
12. Live Chat by UserPulse
Live Chat by UserPulse allows you to add a chat widget on your blog and increase your visitor conversion rate by engaging with your visitors while they are on your blog.
13. Ultimate Live Chat
Ultimate Live Chat is a WordPress plugin that adds live chat support and real-time monitoring capabilities onto your website.
14. ActiveHelper LiveHelp Live Chat
ActiveHelper LiveHelp is a powerful live chat server plugin for WP.
15. MyLiveChat – Live Chat Plugin for WordPress
My LiveChat is a free, fastest, high performance and most user-friendly live chat software solution for WordPress website users.