Today, I've shared a collection of 10 Best Premium Commercial WordPress Themes in this article. These WordPress themes includes different kind of commercial themes such as Classified Ads, Responsive Auction, Project Bidding, Pricerr, Buzzler Business Directory, Penny Auction, TaskerDev Task Marketplace, Walleto Marketplace, Job Board, and DealPress Group Buying WordPress themes. Also give a big thanks to the Sitemile Theme framework, it's SEO optimized and will index your site very quickly in search engines, such as Google, Bing or Yahoo.
So, if you are looking any kind of commercial WordPress themes you may need to check out this article. Please consider sharing this article across your favorite social networking sites if you  like it.
Best Premium Commercial WordPress Themes
Classified Ads Theme is a Premium WordPress theme that lets you transform your WordPress based website into a genuine classified website. It's a good way to transfer a WordPress website into Classified Ads website within seconds. Classified Ads Theme has a lot of new and very useful features, like PayPal, Authorize.net, AlertPay, Google Checkout integration, auto-delete old posts, set ad running period and lots more.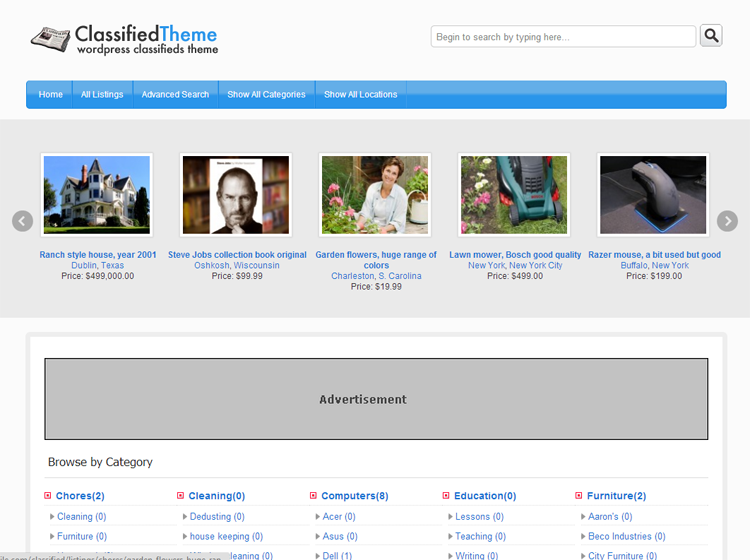 The best and most popular WordPress Responsive theme that transforms your WordPress based website into a genuine auction website. It comes with plug and play functionality without the need of any other additional plugin. Also Auction Theme comes with responsive design, and looks and works fine on mobile phones and tablets (iphone, Android, Tablets, iPads, Nokia, and everything).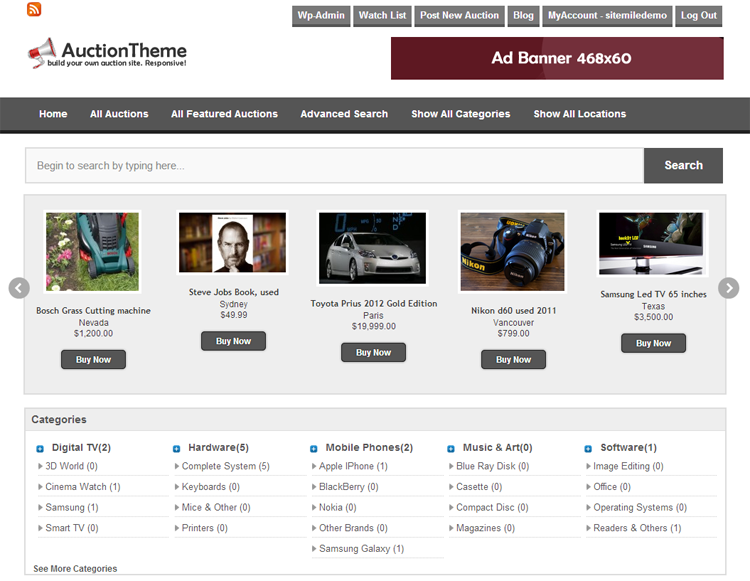 The only WordPress theme that allows you to build a project bidding, freelancer, chores or task website from your WordPress blog. Launch a bidding or job site in minutes with Project Bidding Theme. The perfect solution for the professionals but also for novice users.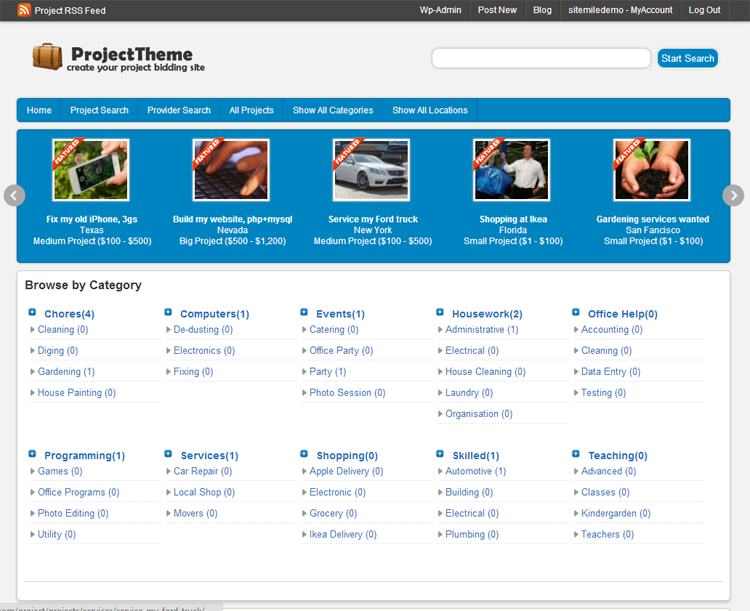 Pricerr WordPress theme to host small fixed price auctions and micro-jobs websites. Host a website that sells tasks and services with this turn-key solution. Without the need of any extra plugins Pricerr is the best pick for the novice but also professional users. Check out here.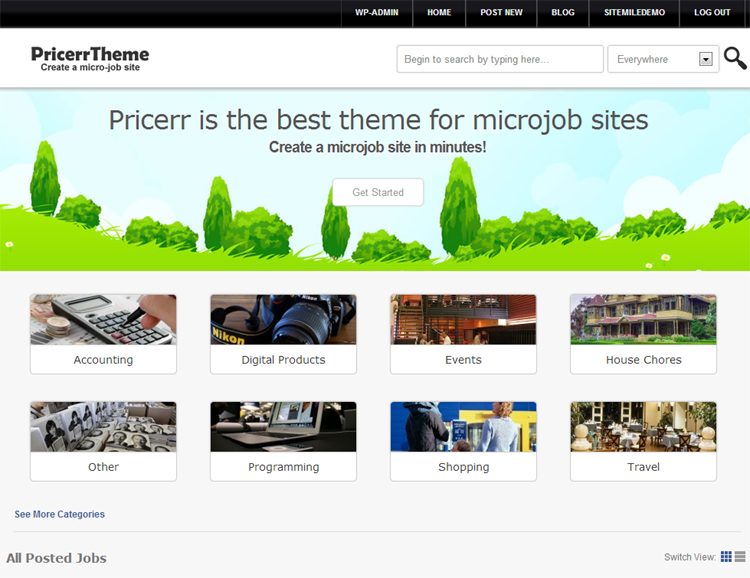 Buzzler is a premium listing theme. A perfect business directory theme and software for small and medium business owners. Comes with geo tagging capability, predefined listing packages and many more.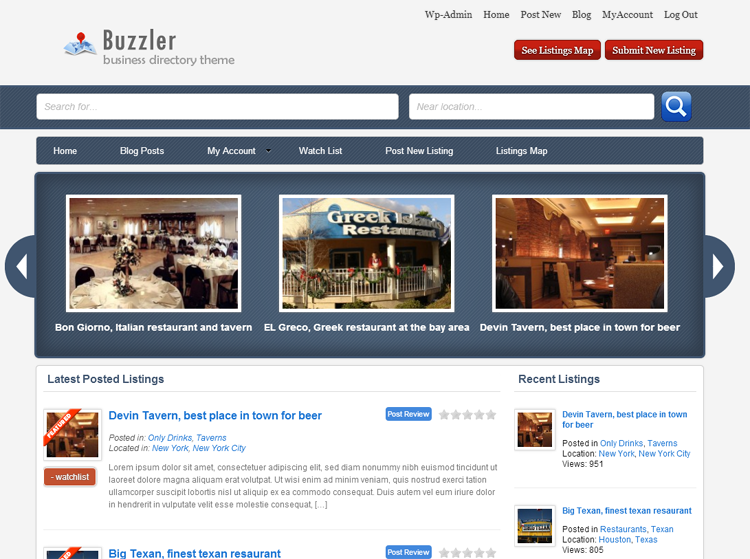 The only WordPress theme that transforms your site into a genuine penny auction website. Launch a penny auction website in minutes without much effort. A very suitable solution for novice and professional internet entrepreneurs.
TaskerDev is a WordPress theme, for launching a small job/errand or task marketplace. Outsourcing errands and tasks for cash, and also posting jobs and tasks you might do for a certain amount of cash.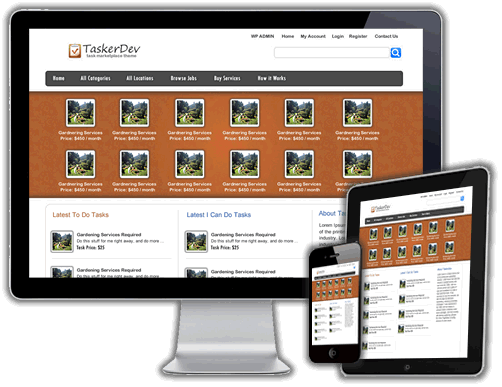 The newest and most powerful WordPress theme for turning a regular website into a fully featured marketplace website. Each user can have his own shop and sell his products to other people. It even supports digital and downloadable good marketplaces. A real turn-key marketplace solution.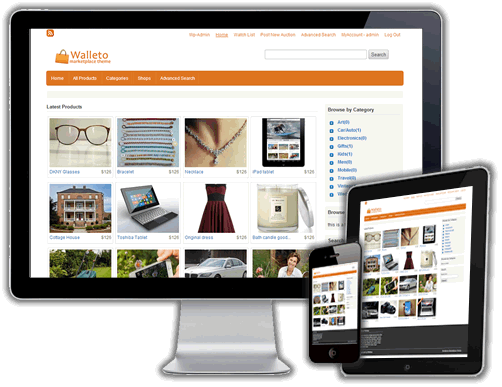 DealPress is a WordPress group buying theme that transforms your blog into a group buying or daily deals website. The theme comes packed with features and is plug and play, meaning you don't need any other plugins to run your very own daily deals or group buying website.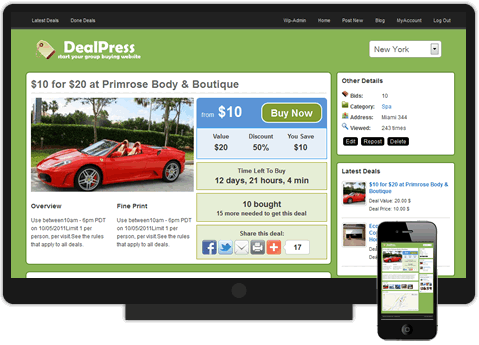 JobMiner is a premium job board theme (job board software) for WordPress. With it you can launch your own job recruitment website in minutes from purchasing. A turn-key solution.