In this article, I'm going to show you how to display flexible design social icons in WordPress. You can change the look of these social sharing icons whenever you want. You can change the colors, the icons, the style of these flexible social icons right from your WordPress dashboard. I'm not going to get you into typical codings to change the colors, the icons and the style of these social icons but I only want you to display unique social sharing icons on your blogs rather than displaying standard social sharing icons in your blogs.
QuickShare
QuickShare is a WordPress plugin which lets you add flexible, highly customizable social icons in your WP blog within minutes. However, you can choose which social icons to be displayed and which should be excluded from the social icons row. Right now, this plugin enables you to display Facebook, Twitter, Pinterest, Linkedin, Google+, Tumblr, Reddit, and StumbleUpon in your blog. A basic email function is also available.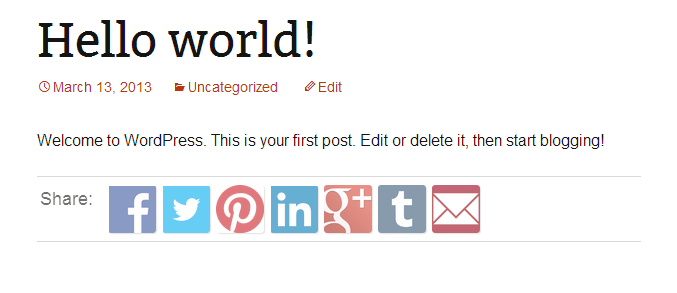 How to Display Flexible Design Social Icons in WordPress?
So, now if you have just decided to display flexible design social icons in WordPress then the first thing that you got to do is to install and activate QuickShare plugin in your blog and follow the steps below:
Go to Settings → QuickShare 
Select the Display Type to Genericons
Now, Scroll down to Monochrome Icons and check box Use a single color for all icons, once you do that
From the Icon Color section uncheck the box for Inherit Link Colors and if you check this box you will then need to pick up a color from the colors scheme about how should be the colors of social icons be
And configure the rest of settings according to your needs, everything is customizable.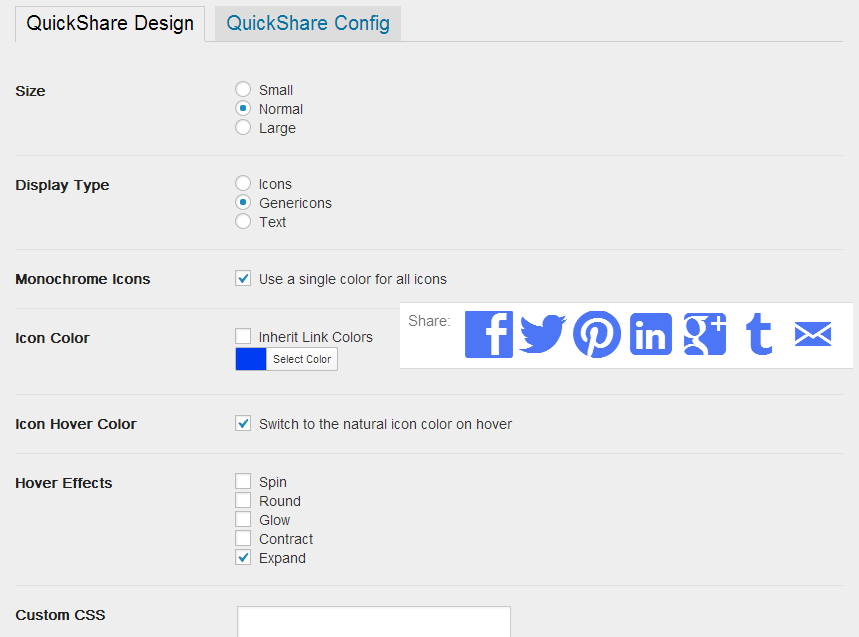 By the way, as a bonus, QuickShare includes several built-in CSS3 effects for hover state animations.