A new metro style social widget has been published for WordPress blog users over the internet which you can use on your WP blogs at no cost. The WordPress users can take advantage of this new metro style social widget in their blogs to display their social profile links beautifully. I've just found this amazing new metro style social widget and going to share this out with my blog readers today. See the following image of that widget to know what I'm talking about: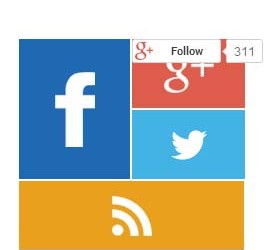 Metro Style Social Widget
Metro Style Social Widget is a WordPress plugin that adds a social widget in your WordPress blog. This widget let's you display your social media profiles links in a more beautiful way. Hovering the mouse over the social icons in the widget outputs the Facebook Like button, Twitter Follow button, etc, so your blog readers can immediately Like or Follow your fanpage or Twitter profile without leaving your site means it's a call-to-action widget too.
The Facebook, Google+ , Twitter and RSS are default and no longer be customized because everyone use them. But the other network as optional. If needed you can display YouTube, Linkedin and Pinterest else choose don't show option in widget settings. By the way, this widget is responsive and can be accessible through mobile, desktop, tablet pc, so on.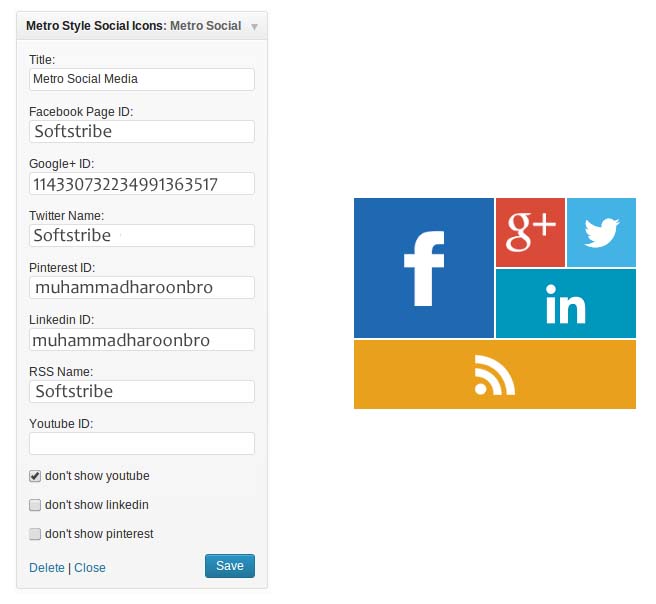 How to use Metro Style Social Widget in WordPress
Follow the steps below:
Go to Appearance → Widgets
Drag and drop the widget called Metro Style Social Icons in the sidebar wherever you wish to display that social widget in your blog
Simply, customize the widget according to your needs, by the way you can add only usernames in the input fields in the widget to display social profiles in the widget