Markerly is a social sharing widget for website developers and website owners. Let me explain it a little bit more about what Markerly does? Markerly social sharing widget allows your website visitors to share your content, images and videos across their social media profiles. This will not only increase your blog traffic but it'll also get you more Facebook fanpage likers and Twitter Followers.
But what actually, I'm going to show you how to add that Markerly social sharing widget in your WordPress blog. I've also written some guides on adding lazy load social sharing buttons in WordPress, adding social sharing buttons below post info in Genesis?, and for self-coded website owners I wrote how to add lazy load social sharing buttons with Socialite.js.
Official Markerly Widget
Official Markerly Widget WordPress plugin allows you to install Markerly on your WordPress blog. Markerly social sharing widget sits on the top of your content which prompts users to share when they engage with images, video, and text. You then will get Analytics on the back-end when you log into Markerly.
This is how Markerly social sharing widget looks like: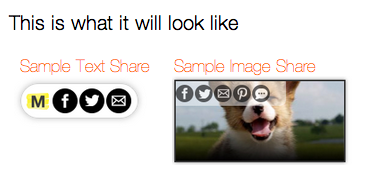 How to use Official Markerly Widget WordPress Plugin
Follow the steps below:
Install and activate the Markerly plugin in your blog
Go to Settings → Markerly Options
Now, configure the plugin settings according to your needs: