In this article, I'm going to show you how to create a social media links widget in WordPress which then be displayed in the sidebars, and footer with mouse hover effects. It would be a nice idea to display social media links in the widget for easily contact. So, let me just show you an example screenshot about how we are going to make a social media widget for displaying social media links: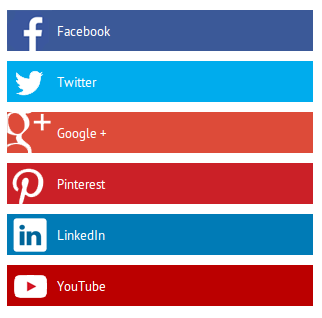 Social Contact Display
Social Contact Display one of the best WordPress plugin that helps you to add a social media links a widget that you can place on your blog sidebars and footer so easily just by dragging and dropping the widget in the sidebar areas.
Social Contact Display comes with a very simple UI (User Interface) that allows you to easily update both your business address and your social media sites, including Facebook, Twitter, LinkedIn, Google Plus, Pinterest and Instagram. The widget have several options that you can choose which options you want to display. However, social contact display plugin currently gives you the support for 15 social media icon sets to choose from and the list is being added to all the time. The social media links widget is a lightweight pure built with HTML5 and CSS3 modern webdesign technologies.

How Social Contact Display Works?
Follow the steps below to add a social media links widget in your blog:
Install and activate the WordPress Social Contact Display plugin (To install a plugin)
Navigate to Appearance → Widgets
Just drag and drop the Social Contact Display widget in your desired location sidebar areas
And finally insert your social IDs in blank fields and Save the options