The popular posts widget is an important widget that need to be added in your blog at the very moment after setting up a WordPress blog. This will tell your upcoming blog visitors about the most visited pages on your blog. So, that others can also be benefited from your most popular blog posts.
In this way, I'm going to list down some of top 15 plugins to add popular posts widget in WordPress. I hope, you will like this article. And by-the-way, many of these plugins are free and a few of them are premium that are originally hosted by CodeCanyon.
1. WordPress Popular Posts
WordPress Popular Posts plugin adds a popular posts widget in your WordPress blog which is highly customizable.

2. Clicky Popular Posts Widget
Display your most popular posts, pages etc. based on your Clicky stats in your sidebar. Clicky Popular posts widget can easily be customized when dragging and dropping inside of your blog sidebar through admin panel.
3. WordPress.com Popular Posts
WordPress.com Popular Posts plugin can show the most popular articles in your sidebar, using data collected by Jetpack or WordPress.com Stats plugins.

4. WP-Popular Posts Tool
WP-Popular Posts Tool plugin enables you to display most commented posts, either by category or tag in a widget automatically. Or you can choose manually the category or tag you want to display its most commented posts. This plugin features several configuration options, and can list your comments with color bars. It has a widget to add it easily to your sidebar.
5. Easy Popular Posts
Easy Popular Posts is one of easiest ways to use WordPress function to add popular posts to any WordPress theme.
6. Popular Posts Bar Widget
Popular Posts Bar Widget is a premium (Worth = $8) WordPress plugin that adds colorful popular posts widget in your blog.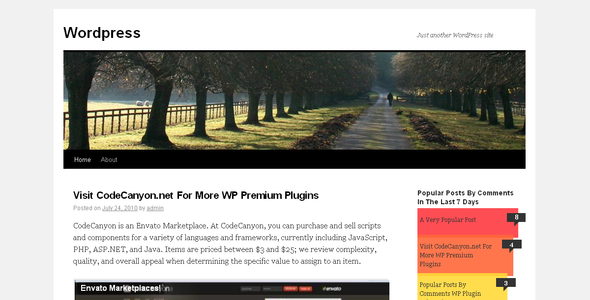 7.  Top Stories – Most Viewed / Commented Posts Widget
Show most commented or viewed posts from your blog just within a sidebar widget, inspired in "Top Stories Sidebar" by Engadget. Easily configure them by adding widgets in already familiar WordPress interface and get unlimited sidebar and color combinations.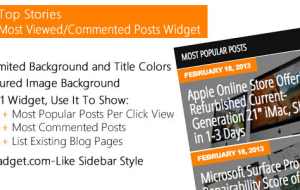 8. Custom Post Widget – WordPress Premium Plugin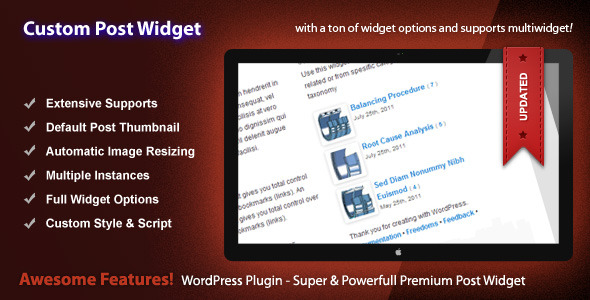 9. Plus Thumbnail Post Widget – Premium Plugin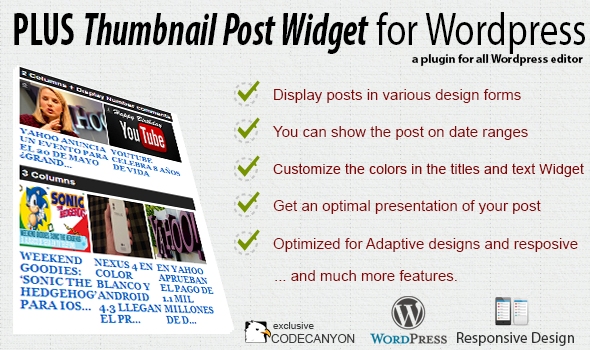 10. Top 10 – Popular posts plugin for WordPress
WordPress doesn't count pageviews by default. Top 10 will count the number of page views on your single posts on a daily as well as overall basis. You can then display the page view count on individual posts and pages as well as display a list of most popular posts based on page views.
11. Popular posts widget (based on comment count)
Popular posts widget will count the most popular posts within your blog by comments. This plugin will provide you a new widget which shows the most popular posts in a unordered list.
Widget options: Title, Number of posts, Custom ul class, Custom li class, post type