2X Battery Saver FREE PRANK is an Android that saves your Android smart phone battery. This android application will help to prank your friends by displaying the full battery. Using this application you can increase battery life, and this app has a great for making jokes with friends about your battery life.
Does it Harmful?
Well, 2x battery saver Free prank Android is not harmful, but with this app you can make fun with your friends and family members.
What it Does?
With app you can double your battery life! It'll start working in background on installation. Basically, you should turn off the Android features which use much of your Android smart phone's battery life. By the way, using this app you will be able to save your phone's battery because this app will turns off some of your device features that usually take a lot of its battery. So you will have the chance to boost your battery life by 15-30% with just the press of a button!
Which Android Features does this app disable Automatically?
For example: If you are not using Bluetooth but it's enabled at the moment, this app will disable Bluetooth.
Additionally, you can see the list of apps that sucks your battery life. So, you can delete them (Recommended).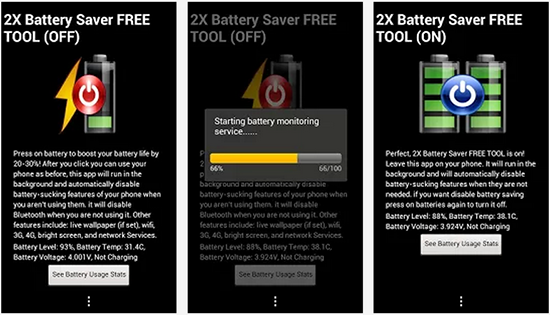 READ BEFORE YOU DOWNLOAD THIS APP

This app will add a few search access points on your device. If you do not want to use this new search page, you can either ignore it or delete it. If you do use it, we get a few cents and it will help us a lot to keep developing more apps. If you don't, you can delete it and no harm is done (our app remains the same, no need to uninstall it!).